O'Neill, Jones and Barnes hold on to the lead as Men's Trios event reaches halfway mark
08/23/13
2013 World Championships
USA 1, Canada, Colombia and USA 2 hold the top four spots as the men's trios have completed the first block on short oil; the second block and the medal round on long oil will follow on Sunday
Squad 1 leaders
Bill O'Neill
,
Tommy Jones
and
Chris Barnes
(pictured left, r-l) of the United States held on to the lead as the Men's Trios event has reached its halfway mark at the World Championships in the Las Vegas area.
The multiple world champions toppled 2040 pins and averaged 226.67 on the 33-feet
Sydney
pattern. Barnes, who won Doubles title Wednesday led the way with 705. Jones contributed 685 pins and O'Neill, who won his second consecutive gold medal in Singles earlier this week added 650.
The Americans held a 48-pin lead over Canada and Colombia, who were tied for second place at 1992 (221.33 average).
Canadians
Mark Buffa
,
Francois Lavoie
and
Patrick Girard
(right, l-r) rolled games of 694, 605 and 693 to lead the second squad on Friday afternoon. Girard led the team with 698, Buffa had 672 and Lavoie added 622.
Colombia's
Edward Rey
,
Oscar Rodriguez
and
Santiago Mejia
(right, r-l), who remained in second place with 1992 and an average of 221.33. Rodrigues posted a 786 series (262 average), the highest three-game block on short oil of the Championships so far.
The second U.S. trio featuring
John Janawicz
,
Mike Fagan
and
John Szczerbinski
(right, l-r) took the early lead in Squad 2 with a huge 742 game, but fell out of the top four behind a sub-par 555 in game two. The Americans rebounded with a 678 game powered by Szczerbinski's 287, to finish second in Squad 2 and fourth overall with 1975 (219.44).
Just outside the top four, looking in were
Shaker Al Hassan
,
Sayed Al Hashemi
and
Nayef Oqab
(left, r-l) of the United Arab Emirates, who rolled three consistent games between 645 and 655 for 1947 (216.33).
Sixth place belonged to
Choi Bok-Eum
,
Cho Young-Seon
and
Kim Jun-Yung
, who checked in with 1925 (213.89). Australia's
Glen Loader
,
Sam Cooley
and
Jason Belmonte
(right, r-l) moved into seventh place with 1922, followed by the second UAE trio
Hussain Al Suwaidi
,
Sultan Al Qubaisi
and
Hareb Al Mansoori
in eighth place with 1908.
Rounding out the top 10 were Swedes
Robert Andersson
,
Dennis Eklund
and
Martin Larsen
in ninth place with 1903 and Thailand's
Sivakorn Krittslunon
,
Phoemphun Yakasem
and
Atittarat Cheng
(left, r-l) in 10th place with 1900.
With 15 of 24 games in All-Events (combined qualifying results in Singles, Doubles, Trios and Team) in the books,
Chris Barnes
and
Bill O'Neill
of the United States lead the 216-player field with 3571 (238.07 average) and 3341 (222.73). Swede
Martin Larsen
is third with 3331 (222.07).
The
Bowling World Championships
continue Saturday with the Women's Trios qualifying, also on short oil pattern. The men will return Sunday for the second block on long oil (Seoul) followed by the semi-finals and finals. The women will conclude the Trios event on Monday.
Bowlingdigital's Photo Album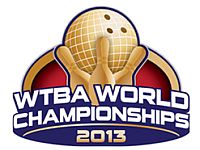 The
World Tenpin Bowling Association World Championships
run from Aug. 16 thru 31, 2013 at Sunset Station's Strike Zone in Henderson, Nev. in the Las Vegas area. The Championships will award medals in six disciplines - Singles, Doubles, Trios, Team, All Events and Masters.
The entire competition will be broadcast live on BOWL.com's BowlTV. Bowling fans will be able to watch live and on demand for free. The schedule is available at
BOWL.com/LiveStream
.
 
Related Articles
Slow motion video
of the women's players' releases, ball motion and pin action
Team USA's
O'Neill, Jones and Barnes
set the tone in Men's Trios at World Championships
USA's
Nation/O'Keefe
beat team mates Kulick/Parkin to win the gold medal in Women's Doubles
Venezuela's
Marcano sisters
average 240 to take the lead in Women's Doubles
Slow motion video
of the men's players' releases, ball motion and pin action
Team USA's
Szczerbinski and Barnes
shoot 569 to cruise to the Doubles gold
Team USA's
Barnes, Szczerbinski
in top qualifying position after Doubles Squad 1
Korea's
Ryu Seo-Yeon
defeats Chinese Taipei's spinners to win Women's Singles title
Chinese Taipei spinner
Wang Ya-Ting
is the early leader in Women's Singles
Bill O'Neill
starts 2013 WTBA World Championships with victory in Men's Singles
Bodo Konieczny
sets the pace in Men's Singles at the 2013 Bowling World Championships
2013 World Championships kick off Sunday with the
Official Practice
Strike Gold Celebrity Challenge
helps usher in 2013 World Championships
Photos
from World Championships opening ceremony
Championship Preview
More Stories
 
Men's Trios - Qualifying Squad 2 (first block)
Men's Trios - Standings after the first block of Qualifying (short oil)
The top four trios after six games (first block on short oil, second block on long oil) will advance to the Medal Round
| | | | | | | | | | | | |
| --- | --- | --- | --- | --- | --- | --- | --- | --- | --- | --- | --- |
| Pos | Player/Country | G1 | G2 | G3 | G1-3 | G4 | G5 | G6 | G4-6 | Pins | Avg. |
| 1. | United States | 614 | 732 | 694 | 2040 | | | | | 2040 | 226.67 |
| | Bill O'Neill | 205 | 213 | 232 | 650 | | | | | 650 | 216.67 |
| | Tommy Jones | 205 | 255 | 225 | 685 | | | | | 685 | 228.33 |
| | Chris Barnes | 204 | 264 | 237 | 705 | | | | | 705 | 235.00 |
| 2. | Canada | 694 | 605 | 693 | 1992 | | | | | 1992 | 221.33 |
| | Mark Buffa | 245 | 197 | 230 | 672 | | | | | 672 | 224.00 |
| | Francois Lavoie | 194 | 204 | 224 | 622 | | | | | 622 | 207.33 |
| | Patrick Girard | 255 | 204 | 239 | 698 | | | | | 698 | 232.67 |
| 3. | Colombia | 680 | 682 | 630 | 1992 | | | | | 1992 | 221.33 |
| | Edward Rey | 203 | 208 | 169 | 580 | | | | | 580 | 193.33 |
| | Oscar Rodriguez | 288 | 254 | 244 | 786 | | | | | 786 | 262.00 |
| | Santiago Mejia | 189 | 220 | 217 | 626 | | | | | 626 | 208.67 |
| 4. | United States | 742 | 555 | 678 | 1975 | | | | | 1975 | 219.44 |
| | John Janawicz | 247 | 206 | 225 | 678 | | | | | 678 | 226.00 |
| | John Szczerbinski | 237 | 168 | 287 | 692 | | | | | 692 | 230.67 |
| | Mike Fagan | 258 | 181 | 166 | 605 | | | | | 605 | 201.67 |
| 5. | UAE | 647 | 645 | 655 | 1947 | | | | | 1947 | 216.33 |
| | Shaker Al Hassan | 236 | 214 | 243 | 693 | | | | | 693 | 231.00 |
| | Sayed Al Hashemi | 180 | 221 | 198 | 599 | | | | | 599 | 199.67 |
| | Nayef Oqab | 231 | 210 | 214 | 655 | | | | | 655 | 218.33 |
| 6. | Korea | 621 | 665 | 639 | 1925 | | | | | 1925 | 213.89 |
| | Choi Bok-Eum | 219 | 226 | 155 | 600 | | | | | 600 | 200.00 |
| | Cho Young-Seon | 237 | 206 | 225 | 668 | | | | | 668 | 222.67 |
| | Kim Jun-Yung | 165 | 233 | 259 | 657 | | | | | 657 | 219.00 |
| 7. | Australia | 637 | 654 | 631 | 1922 | | | | | 1922 | 213.56 |
| | Glen Loader | 228 | 176 | 230 | 634 | | | | | 634 | 211.33 |
| | Sam Cooley | 237 | 223 | 225 | 685 | | | | | 685 | 228.33 |
| | Jason Belmonte | 172 | 255 | 176 | 603 | | | | | 603 | 201.00 |
| 8. | UAE | 683 | 627 | 598 | 1908 | | | | | 1908 | 212.00 |
| | Hussain Al Suwaidi | 246 | 201 | 191 | 638 | | | | | 638 | 212.67 |
| | Sultan Mk Al Qubaisi | 207 | 200 | 195 | 602 | | | | | 602 | 200.67 |
| | Hareb Al Mansoori | 230 | 226 | 212 | 668 | | | | | 668 | 222.67 |
| 9. | Sweden | 666 | 564 | 673 | 1903 | | | | | 1903 | 211.44 |
| | Robert Andersson | 186 | 219 | 266 | 671 | | | | | 671 | 223.67 |
| | Dennis Eklund | 234 | 200 | 212 | 646 | | | | | 646 | 215.33 |
| | Martin Larsen | 246 | 145 | 195 | 586 | | | | | 586 | 195.33 |
| 10. | Thailand | 722 | 586 | 592 | 1900 | | | | | 1900 | 211.11 |
| | Sivakorn Krittslunon | 299 | 191 | 185 | 675 | | | | | 675 | 225.00 |
| | Atittarat Cheng | 204 | 194 | 205 | 603 | | | | | 603 | 201.00 |
| | Phoemphun Yakasem | 219 | 201 | 202 | 622 | | | | | 622 | 207.33 |
| 11. | Malaysia | 640 | 614 | 644 | 1898 | | | | | 1898 | 210.89 |
| | Syafiq Ridhwan | 198 | 215 | 185 | 598 | | | | | 598 | 199.33 |
| | Alex Liew | 224 | 185 | 203 | 612 | | | | | 612 | 204.00 |
| | Rafiq Ismail | 218 | 214 | 256 | 688 | | | | | 688 | 229.33 |
| 12. | Norway | 602 | 640 | 649 | 1891 | | | | | 1891 | 210.11 |
| | Mads Sandbækken | 199 | 237 | 206 | 642 | | | | | 642 | 214.00 |
| | Bj√łrn Einar Rudshagen | 195 | 222 | 224 | 641 | | | | | 641 | 213.67 |
| | Tore Torgersen | 208 | 181 | 219 | 608 | | | | | 608 | 202.67 |
| 13. | Bahrain | 696 | 568 | 621 | 1885 | | | | | 1885 | 209.44 |
| | Ahmed Al Goud | 268 | 152 | 214 | 634 | | | | | 634 | 211.33 |
| | Ahmed Jabbar | 218 | 204 | 195 | 617 | | | | | 617 | 205.67 |
| | Mohamed Sultan | 210 | 212 | 212 | 634 | | | | | 634 | 211.33 |
| 14. | Sweden | 675 | 602 | 600 | 1877 | | | | | 1877 | 208.56 |
| | Jesper Svensson | 247 | 224 | 242 | 713 | | | | | 713 | 237.67 |
| | Martin Paulsson | 220 | 223 | 190 | 633 | | | | | 633 | 211.00 |
| | James Gruffman | 208 | 155 | 168 | 531 | | | | | 531 | 177.00 |
| 15. | Malaysia | 617 | 639 | 613 | 1869 | | | | | 1869 | 207.67 |
| | Adrian Ang | 228 | 223 | 194 | 645 | | | | | 645 | 215.00 |
| | Zulmazran Zulkifli | 174 | 194 | 203 | 571 | | | | | 571 | 190.33 |
| | Timmy Tan | 215 | 222 | 216 | 653 | | | | | 653 | 217.67 |
| 16. | Indonesia | 576 | 538 | 745 | 1859 | | | | | 1859 | 206.56 |
| | Diwan Syahril | 210 | 178 | 203 | 591 | | | | | 591 | 197.00 |
| | Rangga Yudhira | 170 | 164 | 246 | 580 | | | | | 580 | 193.33 |
| | Adhiguna Widiantoro | 196 | 196 | 296 | 688 | | | | | 688 | 229.33 |
| 17. | Japan | 648 | 611 | 595 | 1854 | | | | | 1854 | 206.00 |
| | Tomoyuki Sasaki | 233 | 203 | 188 | 624 | | | | | 624 | 208.00 |
| | Toshihiko Takahashi | 192 | 209 | 222 | 623 | | | | | 623 | 207.67 |
| | Shusaku Asato | 223 | 199 | 185 | 607 | | | | | 607 | 202.33 |
| 18. | Indonesia | 603 | 614 | 634 | 1851 | | | | | 1851 | 205.67 |
| | Ryan Lalisang | 214 | 234 | 193 | 641 | | | | | 641 | 213.67 |
| | Yeri Ramadona | 215 | 179 | 231 | 625 | | | | | 625 | 208.33 |
| | Hardy Rachmadian | 174 | 201 | 210 | 585 | | | | | 585 | 195.00 |
| 19. | Finland | 639 | 619 | 582 | 1840 | | | | | 1840 | 204.44 |
| | Perttu Jussila | 222 | 215 | 195 | 632 | | | | | 632 | 210.67 |
| | Tony Ranta | 214 | 233 | 193 | 640 | | | | | 640 | 213.33 |
| | Joonas Jehkinen | 203 | 171 | 194 | 568 | | | | | 568 | 189.33 |
| 20. | Singapore | 522 | 599 | 714 | 1835 | | | | | 1835 | 203.89 |
| | Ng Tiac Pin | 165 | 194 | 224 | 583 | | | | | 583 | 194.33 |
| | Ng Chiew Pang | 183 | 201 | 213 | 597 | | | | | 597 | 199.00 |
| | Keith Saw | 174 | 204 | 277 | 655 | | | | | 655 | 218.33 |
| 21. | Japan | 553 | 670 | 588 | 1811 | | | | | 1811 | 201.22 |
| | Daisuke Yoshida | 214 | 225 | 213 | 652 | | | | | 652 | 217.33 |
| | Shogo Wada | 171 | 243 | 213 | 627 | | | | | 627 | 209.00 |
| | Yoshinao Masatoki | 168 | 202 | 162 | 532 | | | | | 532 | 177.33 |
| 22. | Korea | 638 | 603 | 569 | 1810 | | | | | 1810 | 201.11 |
| | Shin Seung-Hyeon | 255 | 180 | 198 | 633 | | | | | 633 | 211.00 |
| | Park Jong-Woo | 210 | 237 | 180 | 627 | | | | | 627 | 209.00 |
| | Kim Ju-Young | 173 | 186 | 191 | 550 | | | | | 550 | 183.33 |
| 23. | France | 623 | 679 | 506 | 1808 | | | | | 1808 | 200.89 |
| | Anthony Fabre | 246 | 188 | 165 | 599 | | | | | 599 | 199.67 |
| | Sebastien Henry | 187 | 245 | 161 | 593 | | | | | 593 | 197.67 |
| | Kevin Seve | 190 | 246 | 180 | 616 | | | | | 616 | 205.33 |
| 24. | Hong Kong | 525 | 647 | 627 | 1799 | | | | | 1799 | 199.89 |
| | Michael Tsang | 158 | 204 | 193 | 555 | | | | | 555 | 185.00 |
| | Wicky Yeung | 190 | 234 | 206 | 630 | | | | | 630 | 210.00 |
| | Rickle Kam | 177 | 209 | 228 | 614 | | | | | 614 | 204.67 |
| 25. | Puerto Rico | 602 | 592 | 605 | 1799 | | | | | 1799 | 199.89 |
| | Francisco Valiente | 173 | 190 | 223 | 586 | | | | | 586 | 195.33 |
| | Javier Diaz | 198 | 200 | 188 | 586 | | | | | 586 | 195.33 |
| | Cristian Azcona | 231 | 202 | 194 | 627 | | | | | 627 | 209.00 |
| 26. | Greece | 600 | 596 | 600 | 1796 | | | | | 1796 | 199.56 |
| | Georgios Stefanidis | 222 | 188 | 194 | 604 | | | | | 604 | 201.33 |
| | Leonidas Maragkos | 213 | 180 | 221 | 614 | | | | | 614 | 204.67 |
| | Evangelos Krizinis | 165 | 228 | 185 | 578 | | | | | 578 | 192.67 |
| 27. | Puerto Rico | 671 | 553 | 566 | 1790 | | | | | 1790 | 198.89 |
| | Israel Hernandez | 190 | 196 | 165 | 551 | | | | | 551 | 183.67 |
| | Andraunic Simounet | 277 | 190 | 207 | 674 | | | | | 674 | 224.67 |
| | Francisco Colon | 204 | 167 | 194 | 565 | | | | | 565 | 188.33 |
| 28. | Costa Rica | 507 | 678 | 601 | 1786 | | | | | 1786 | 198.44 |
| | Diego Rojas | 157 | 193 | 177 | 527 | | | | | 527 | 175.67 |
| | Rodolfo Madriz | 161 | 279 | 203 | 643 | | | | | 643 | 214.33 |
| | Alejandro Reyna | 189 | 206 | 221 | 616 | | | | | 616 | 205.33 |
| 29. | Thailand | 606 | 657 | 522 | 1785 | | | | | 1785 | 198.33 |
| | Sithiphol Kunaksorn | 218 | 219 | 181 | 618 | | | | | 618 | 206.00 |
| | Atchariya Cheng | 193 | 190 | 209 | 592 | | | | | 592 | 197.33 |
| | Yannaphon Larpapharat | 195 | 248 | 132 | 575 | | | | | 575 | 191.67 |
| 30. | Dominican Republic | 562 | 556 | 663 | 1781 | | | | | 1781 | 197.89 |
| | Alejandro Prats | 203 | 214 | 212 | 629 | | | | | 629 | 209.67 |
| | Jose Estrada | 168 | 186 | 193 | 547 | | | | | 547 | 182.33 |
| | Manuel Fernandez | 191 | 156 | 258 | 605 | | | | | 605 | 201.67 |
| 31. | Australia | 584 | 535 | 661 | 1780 | | | | | 1780 | 197.78 |
| | Stephen Cowland | 174 | 181 | 205 | 560 | | | | | 560 | 186.67 |
| | Brendan Meads | 211 | 171 | 213 | 595 | | | | | 595 | 198.33 |
| | Paul Trotter | 199 | 183 | 243 | 625 | | | | | 625 | 208.33 |
| 32. | South Africa | 585 | 588 | 607 | 1780 | | | | | 1780 | 197.78 |
| | Garreth Hechter | 183 | 176 | 221 | 580 | | | | | 580 | 193.33 |
| | Wayne Jones | 154 | 199 | 175 | 528 | | | | | 528 | 176.00 |
| | Francois Louw Jr | 248 | 213 | 211 | 672 | | | | | 672 | 224.00 |
| 33. | Canada | 579 | 643 | 556 | 1778 | | | | | 1778 | 197.56 |
| | George Lambert | 225 | 201 | 175 | 601 | | | | | 601 | 200.33 |
| | David Simard | 160 | 213 | 211 | 584 | | | | | 584 | 194.67 |
| | Dan MacLelland | 194 | 229 | 170 | 593 | | | | | 593 | 197.67 |
| 34. | Colombia | 607 | 567 | 603 | 1777 | | | | | 1777 | 197.44 |
| | Jaime E Gonzalez | 215 | 162 | 214 | 591 | | | | | 591 | 197.00 |
| | Manuel H Otalora | 197 | 206 | 165 | 568 | | | | | 568 | 189.33 |
| | Andres Gomez | 195 | 199 | 224 | 618 | | | | | 618 | 206.00 |
| 35. | Norway | 570 | 573 | 631 | 1774 | | | | | 1774 | 197.11 |
| | Fredrik Tjernes | 181 | 192 | 201 | 574 | | | | | 574 | 191.33 |
| | Glenn Morten Pedersen | 175 | 179 | 236 | 590 | | | | | 590 | 196.67 |
| | Svein √Öke Ek | 214 | 202 | 194 | 610 | | | | | 610 | 203.33 |
| 36. | Dominican Republic | 578 | 586 | 604 | 1768 | | | | | 1768 | 196.44 |
| | Willie Javier | 179 | 157 | 201 | 537 | | | | | 537 | 179.00 |
| | Raffy Sebelen | 185 | 226 | 186 | 597 | | | | | 597 | 199.00 |
| | Rolando Sebelen | 214 | 203 | 217 | 634 | | | | | 634 | 211.33 |
| 37. | Costa Rica | 550 | 608 | 609 | 1767 | | | | | 1767 | 196.33 |
| | Fernando Gonzalez | 192 | 161 | 183 | 536 | | | | | 536 | 178.67 |
| | Alberto Lizano | 170 | 266 | 183 | 619 | | | | | 619 | 206.33 |
| | James Stanley | 188 | 181 | 243 | 612 | | | | | 612 | 204.00 |
| 38. | England | 574 | 591 | 596 | 1761 | | | | | 1761 | 195.67 |
| | John Wells | 211 | 224 | 204 | 639 | | | | | 639 | 213.00 |
| | Steve Thornton | 179 | 176 | 207 | 562 | | | | | 562 | 187.33 |
| | Raymond Teece | 184 | 191 | 185 | 560 | | | | | 560 | 186.67 |
| 39. | Hong Kong | 696 | 572 | 492 | 1760 | | | | | 1760 | 195.56 |
| | Eric Tseng | 227 | 169 | 199 | 595 | | | | | 595 | 198.33 |
| | Wu Siu Hong | 246 | 191 | 145 | 582 | | | | | 582 | 194.00 |
| | Michael Mak | 223 | 212 | 148 | 583 | | | | | 583 | 194.33 |
| 40. | England | 561 | 699 | 487 | 1747 | | | | | 1747 | 194.11 |
| | Mike Quarry | 166 | 234 | 193 | 593 | | | | | 593 | 197.67 |
| | Matt Miller | 188 | 233 | 147 | 568 | | | | | 568 | 189.33 |
| | Stuart Williams | 207 | 232 | 147 | 586 | | | | | 586 | 195.33 |
| 41. | Mexico | 584 | 578 | 583 | 1745 | | | | | 1745 | 193.89 |
| | Ernesto Franco | 224 | 180 | 186 | 590 | | | | | 590 | 196.67 |
| | Ricardo Lecuona | 179 | 247 | 207 | 633 | | | | | 633 | 211.00 |
| | Alejandro Cruz | 181 | 151 | 190 | 522 | | | | | 522 | 174.00 |
| 42. | Iceland | 538 | 599 | 600 | 1737 | | | | | 1737 | 193.00 |
| | Arnar David Jonsson | 145 | 191 | 186 | 522 | | | | | 522 | 174.00 |
| | Magnus Magnusson | 181 | 215 | 213 | 609 | | | | | 609 | 203.00 |
| | Hafthor Hardarson | 212 | 193 | 201 | 606 | | | | | 606 | 202.00 |
| 43. | Finland | 504 | 608 | 622 | 1734 | | | | | 1734 | 192.67 |
| | Petteri Salonen | 150 | 215 | 192 | 557 | | | | | 557 | 185.67 |
| | Pasi Uotila | 163 | 178 | 212 | 553 | | | | | 553 | 184.33 |
| | Osku Palermaa | 191 | 215 | 218 | 624 | | | | | 624 | 208.00 |
| 44. | Venezuela | 573 | 563 | 592 | 1728 | | | | | 1728 | 192.00 |
| | Reydnier Chavez | 177 | 156 | 158 | 491 | | | | | 491 | 163.67 |
| | Luis Eduardo Rovaina | 191 | 185 | 208 | 584 | | | | | 584 | 194.67 |
| | Eddy Fuentes | 205 | 222 | 226 | 653 | | | | | 653 | 217.67 |
| 45. | France | 590 | 580 | 555 | 1725 | | | | | 1725 | 191.67 |
| | Jerome Durupt | 214 | 192 | 224 | 630 | | | | | 630 | 210.00 |
| | Julien Sermand | 173 | 188 | 175 | 536 | | | | | 536 | 178.67 |
| | Yoan Alix | 203 | 200 | 156 | 559 | | | | | 559 | 186.33 |
| 46. | Kuwait | 602 | 547 | 573 | 1722 | | | | | 1722 | 191.33 |
| | Jasim Abbas | 200 | 170 | 186 | 556 | | | | | 556 | 185.33 |
| | Rakan Al Ameeri | 200 | 199 | 215 | 614 | | | | | 614 | 204.67 |
| | Yaqoub Al Shatti | 202 | 178 | 172 | 552 | | | | | 552 | 184.00 |
| 47. | Greece | 535 | 603 | 581 | 1719 | | | | | 1719 | 191.00 |
| | Stamatios Roros | 217 | 221 | 186 | 624 | | | | | 624 | 208.00 |
| | Georgios Tziotis | 160 | 179 | 234 | 573 | | | | | 573 | 191.00 |
| | Nikolaos Kekesis | 158 | 203 | 161 | 522 | | | | | 522 | 174.00 |
| 48. | Netherlands | 510 | 592 | 606 | 1708 | | | | | 1708 | 189.78 |
| | Roel Mol | 163 | 166 | 200 | 529 | | | | | 529 | 176.33 |
| | Jeroen van Geel | 157 | 200 | 253 | 610 | | | | | 610 | 203.33 |
| | Alex de Vries | 190 | 226 | 153 | 569 | | | | | 569 | 189.67 |
| 49. | Denmark | 531 | 535 | 639 | 1705 | | | | | 1705 | 189.44 |
| | Frederik √ėhrgaard | 168 | 152 | 215 | 535 | | | | | 535 | 178.33 |
| | Carsten Warming Hansen | 170 | 189 | 226 | 585 | | | | | 585 | 195.00 |
| | Jimmy Mortensen | 193 | 194 | 198 | 585 | | | | | 585 | 195.00 |
| 50. | South Africa | 573 | 585 | 540 | 1698 | | | | | 1698 | 188.67 |
| | Morne v.d Berg | 158 | 202 | 206 | 566 | | | | | 566 | 188.67 |
| | Quintin Haywood | 244 | 215 | 141 | 600 | | | | | 600 | 200.00 |
| | Alan Kewley | 171 | 168 | 193 | 532 | | | | | 532 | 177.33 |
| 51. | Israel | 592 | 534 | 569 | 1695 | | | | | 1695 | 188.33 |
| | Omer Nechushtan | 200 | 176 | 200 | 576 | | | | | 576 | 192.00 |
| | Nati Volpert | 170 | 178 | 159 | 507 | | | | | 507 | 169.00 |
| | Ben Fishler | 222 | 180 | 210 | 612 | | | | | 612 | 204.00 |
| 52. | Denmark | 609 | 525 | 555 | 1689 | | | | | 1689 | 187.67 |
| | Jesper Agerbo | 222 | 154 | 222 | 598 | | | | | 598 | 199.33 |
| | Mik Stampe | 185 | 176 | 173 | 534 | | | | | 534 | 178.00 |
| | Thomas Larsen | 202 | 195 | 160 | 557 | | | | | 557 | 185.67 |
| 53. | Macau | 608 | 537 | 537 | 1682 | | | | | 1682 | 186.89 |
| | Choi Io Fai | 257 | 212 | 168 | 637 | | | | | 637 | 212.33 |
| | Ho Weng Hou | 160 | 168 | 180 | 508 | | | | | 508 | 169.33 |
| | Lee Tak Man | 191 | 157 | 189 | 537 | | | | | 537 | 179.00 |
| 54. | Venezuela | 550 | 596 | 530 | 1676 | | | | | 1676 | 186.22 |
| | Ildemaro Ruiz | 212 | 157 | 150 | 519 | | | | | 519 | 173.00 |
| | Richard Leon | 144 | 183 | 176 | 503 | | | | | 503 | 167.67 |
| | Amleto Monacelli | 194 | 256 | 204 | 654 | | | | | 654 | 218.00 |
| 55. | Kuwait | 525 | 563 | 584 | 1672 | | | | | 1672 | 185.78 |
| | Aseel Al Roumi | 157 | 177 | 182 | 516 | | | | | 516 | 172.00 |
| | Mohanid Ebrahim | 160 | 166 | 188 | 514 | | | | | 514 | 171.33 |
| | Salem Al Hajras | 208 | 220 | 214 | 642 | | | | | 642 | 214.00 |
| 56. | Austria | 571 | 509 | 577 | 1657 | | | | | 1657 | 184.11 |
| | Roman F√ľrbacher | 165 | 148 | 183 | 496 | | | | | 496 | 165.33 |
| | Benjamin Kubalek | 192 | 166 | 201 | 559 | | | | | 559 | 186.33 |
| | Philipp Schlosser | 214 | 195 | 193 | 602 | | | | | 602 | 200.67 |
| 57. | Germany | 566 | 528 | 563 | 1657 | | | | | 1657 | 184.11 |
| | Bodo Konieczny | 170 | 183 | 203 | 556 | | | | | 556 | 185.33 |
| | Pascal Winternheimer | 188 | 173 | 157 | 518 | | | | | 518 | 172.67 |
| | Marco Baade | 208 | 172 | 203 | 583 | | | | | 583 | 194.33 |
| 58. | Bahrain | 588 | 481 | 576 | 1645 | | | | | 1645 | 182.78 |
| | Ali Al Qaseer | 167 | 168 | 239 | 574 | | | | | 574 | 191.33 |
| | Ahmed Fareed | 200 | 154 | 176 | 530 | | | | | 530 | 176.67 |
| | Taha Selail | 221 | 159 | 161 | 541 | | | | | 541 | 180.33 |
| 59. | Singapore | 523 | 595 | 519 | 1637 | | | | | 1637 | 181.89 |
| | Jaris Goh | 200 | 215 | 189 | 604 | | | | | 604 | 201.33 |
| | Joel Tan | 157 | 206 | 165 | 528 | | | | | 528 | 176.00 |
| | Javier Tan | 166 | 174 | 165 | 505 | | | | | 505 | 168.33 |
| 60. | Austria | 481 | 565 | 581 | 1627 | | | | | 1627 | 180.78 |
| | Alexander Rauscher | 135 | 184 | 225 | 544 | | | | | 544 | 181.33 |
| | Michael Rauscher | 173 | 176 | 185 | 534 | | | | | 534 | 178.00 |
| | Michael Loos | 173 | 205 | 171 | 549 | | | | | 549 | 183.00 |
| 61. | Mexico | 534 | 548 | 536 | 1618 | | | | | 1618 | 179.78 |
| | Luis Kassian | 164 | 219 | 138 | 521 | | | | | 521 | 173.67 |
| | Mario Quintero | 191 | 170 | 188 | 549 | | | | | 549 | 183.00 |
| | Roberto Silva | 179 | 159 | 210 | 548 | | | | | 548 | 182.67 |
| 62. | Switzerland | 533 | 579 | 499 | 1611 | | | | | 1611 | 179.00 |
| | Philippe Huber | 187 | 201 | 191 | 579 | | | | | 579 | 193.00 |
| | Mathieu Berges | 171 | 187 | 146 | 504 | | | | | 504 | 168.00 |
| | Sandro Ancarani | 175 | 191 | 162 | 528 | | | | | 528 | 176.00 |
| 63. | Brazil | 522 | 540 | 547 | 1609 | | | | | 1609 | 178.78 |
| | Oscar Marin | 215 | 171 | 190 | 576 | | | | | 576 | 192.00 |
| | M√°rcio Menezes | 141 | 146 | 154 | 441 | | | | | 441 | 147.00 |
| | M√°rcio Vieira | 166 | 223 | 203 | 592 | | | | | 592 | 197.33 |
| 64. | Poland | 556 | 524 | 521 | 1601 | | | | | 1601 | 177.89 |
| | Patryk Preus | 206 | 150 | 146 | 502 | | | | | 502 | 167.33 |
| | Mariusz Musialik | 164 | 174 | 163 | 501 | | | | | 501 | 167.00 |
| | Marek Przezpolewski | 186 | 200 | 212 | 598 | | | | | 598 | 199.33 |
| 65. | Germany | 546 | 504 | 538 | 1588 | | | | | 1588 | 176.44 |
| | Achim Grabowski | 175 | 178 | 178 | 531 | | | | | 531 | 177.00 |
| | Tobias Börding | 170 | 164 | 159 | 493 | | | | | 493 | 164.33 |
| | Timo Schröder | 201 | 162 | 201 | 564 | | | | | 564 | 188.00 |
| 66. | Switzerland | 564 | 532 | 491 | 1587 | | | | | 1587 | 176.33 |
| | Cedric Regenass | 157 | 170 | 147 | 474 | | | | | 474 | 158.00 |
| | Harn Chieh Kwan | 218 | 195 | 160 | 573 | | | | | 573 | 191.00 |
| | Vasco Mendes | 189 | 167 | 184 | 540 | | | | | 540 | 180.00 |
| 67. | Netherlands | 534 | 490 | 557 | 1581 | | | | | 1581 | 175.67 |
| | Johnny Spil | 201 | 177 | 157 | 535 | | | | | 535 | 178.33 |
| | Jord van Weeren | 167 | 177 | 199 | 543 | | | | | 543 | 181.00 |
| | Jeffrey van de Wakker | 166 | 136 | 201 | 503 | | | | | 503 | 167.67 |
| 68. | Poland | 453 | 570 | 529 | 1552 | | | | | 1552 | 172.44 |
| | Emil Polanisz | 156 | 202 | 182 | 540 | | | | | 540 | 180.00 |
| | Adam Blaszczak | 157 | 235 | 215 | 607 | | | | | 607 | 202.33 |
| | Zenon Zengota | 140 | 133 | 132 | 405 | | | | | 405 | 135.00 |
| 69. | Iceland | 532 | 487 | 530 | 1549 | | | | | 1549 | 172.11 |
| | Gudlaugur Valgeirsson | 213 | 126 | 212 | 551 | | | | | 551 | 183.67 |
| | Einar Mar Bjornsson | 162 | 169 | 139 | 470 | | | | | 470 | 156.67 |
| | Andres Pall Juliusson | 157 | 192 | 179 | 528 | | | | | 528 | 176.00 |
| 70. | Brazil | 477 | 542 | 528 | 1547 | | | | | 1547 | 171.89 |
| | Igor Pizzoli | 138 | 156 | 185 | 479 | | | | | 479 | 159.67 |
| | Fl√°vio Castell√Ķes | 157 | 191 | 166 | 514 | | | | | 514 | 171.33 |
| | Charles Robini | 182 | 195 | 177 | 554 | | | | | 554 | 184.67 |
| 71. | Israel | 479 | 539 | 519 | 1537 | | | | | 1537 | 170.78 |
| | Or Aviram | 140 | 188 | 152 | 480 | | | | | 480 | 160.00 |
| | Meni Mizrahi | 179 | 185 | 194 | 558 | | | | | 558 | 186.00 |
| | Aviv Alfital | 160 | 166 | 173 | 499 | | | | | 499 | 166.33 |
| 72. | Macau | 447 | 523 | 510 | 1480 | | | | | 1480 | 164.44 |
| | Lam Iek Long | 103 | 142 | 118 | 363 | | | | | 363 | 121.00 |
| | Leong Chou Kin | 155 | 203 | 236 | 594 | | | | | 594 | 198.00 |
| | Zoe Dias Ma | 189 | 178 | 156 | 523 | | | | | 523 | 174.33 |
 
Men's All Events after 15/24 games
The top three will earn the medals; the top 24 will advance to the Masters finals