2015 World Bowling Tour comes to an end with the WBT Finals
02/22/16
2015 World Bowling Tour
The
2015 World Bowling Tour
, which actually got underway in November 2014, consisted of 19 tournaments in the Middle East (9), United States (6), Asia (2) and Europe (2) including seven "majors" and 12 regular tournaments.
Players earned ranking points based on how they finish in each event. "Majors" awarded double points. The current points system is based on a continuous two-year cycle.

The top three men and and women in a separate point ranking (since Nov. 1, 2013) advanced to the
2015 World Bowling Tour Finals
in Indianapolis on Feb. 13, 2016.
For more information on the World Bowling Tour, visit
WorldBowling.org
.
 
2015 World Bowling Tour Schedule
2015 WBT Point Rankings -
Men
and
Women
 
2015 World Bowling Tour #1
(WBT Major)
PBA World Championship
South Point Bowling Center in Las Vegas, Nev., USA (Oct. 26 - Nov. 2, 2014; finals on Jan. 11, 2015)
Champion: Mike Fagan, United States
Women's Ranking winner: Liz Johnson, United States
2015 World Bowling Tour #2
(WBT Major)
It's Daejeon International Open Bowling Tournament
Daejeon World Cup Bowling Center in Daejeon, Korea (Nov. 9-22, 2014)
Champion: Song Si Ra, Korea
Men's Ranking winner: Choi Tae Seung, Korea
2015 World Bowling Tour #3
13th Qatar Bowling Open
Qatar Bowling Center in Doha, Qatar (Nov. 22-27, 2014)
Champion: Dominic Barrett, England
Women's Ranking winner: Mai Ginge Jensen, Denmark
2015 World Bowling Tour #4
8th Kingdom International Open
Universal Bowling Center in Riyadh, Saudi Arabia (Nov. 28 - Dec. 2, 2014)
Champion: Marshall Kent, United States
2015 World Bowling Tour #5
(WBT Major)
Men's World Championships, Abu Dhabi, UAE
Khalifa International Bowling Center in Abu Dhabi, UAE (Dec. 4-15, 2014)
Men's Ranking winner: Kang Heewon, Korea
2015 World Bowling Tour #6
45th Brunswick Ballmaster Open
Tali Bowling Center in Helsinki, Finland (Jan., 2-11, 2015)
Champion: Paul Moor, England
Women's Ranking winner: Shayna Ng, Singapore
2015 World Bowling Tour #7
(WBT Major)
65th United States Bowling Congress Masters
The Ashwaubenon Bowling Alley in Green Bay, Wis., United States (Feb. 1-8, 2015)
Champion: Jason Belmonte, Australia
Women's Ranking winner: Liz Johnson, United States
2015 World Bowling Tour #8
H.H. Emir Cup 2015
Qatar Bowling Center in Doha, Qatar (Feb. 22-27, 2015)
Champion: Tannya Roumimper, Indonesia
Men's Ranking winner: Khaled Al-Dossari, Qatar
2015 World Bowling Tour #9
13th Kingdom of Bahrain International Bowling Championship
Ozone Entertainment Center in Sitra, Bahrain (March 2-7, 2015)
Champion: Jesper Svensson, Sweden
Women's Ranking winner: Tannya Roumimper, Indonesia
2015 World Bowling Tour #10
12th Brunswick Euro Challenge
Dream-Bowl Palace in Munich, Germany (March 14-22, 2015)
Champion: Josh Blanchard, United States
Women's Ranking winner: Sin Li Jane, Malaysia
2015 World Bowling Tour #11
PBA Summer Swing Oklahoma Open
FireLake Bowling Center in Shawnee, Okla., United States (May 9-17, 2015)
Champion: Bill O'Neill, United States
2015 World Bowling Tour #12
United States Bowling Congress Queens
Ashwaubenon Bowl in Green Bay, Wis., United States (May 13-19, 2015)
Champion: Liz Johnson, United States
2015 World Bowling Tour #13
(WBT Major)
Bowling World Open
Shinagawa Prince Hotel bowling center, Round1 Minamisuma bowling center;
arena finals at Makuhari Messe in Tokyo, Japan (July 9-12, 2015)
Men's Champion: Osku Palermaa, Finland
Women's Champion: Joey Yeo, Singapore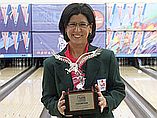 2015 World Bowling Tour #14
Bowlmor AMF U.S. Women's Open
Brunswick Zone Carolier in North Brunswick, New Jersey, United States
(Aug. 31 - Sept. 6, 2015)
Champion: Liz Johnson, United States
2015 World Bowling Tour #15
2015 Bowlmor AMF U.S. Open
AMF Garland Lanes in Dallas/Fort Worth, USA (Nov. 2-8, 2015)
Champion: Ryan Ciminelli, United States
Women's Ranking winner: Danielle McEwan, United States
2015 World Bowling Tour #16
Qatar Bowling Open
Qatar Bowling Center in Doha, Qatar (Nov. 26 - Dec. 2, 2015)
Champion: Cameron Weier, United States
Women's Ranking winner: Danielle McEwan, United States
2015 World Bowling Tour #17
9th Kingdom International Open
Universal Bowling Center in Riyadh, Saudi Arabia (Dec. 3-7, 2015)
Champion: Francois Louw, South Africa
2015 World Bowling Tour #18
(WBT Major)
Women's World Championships
Khalifa International Bowling Center in Abu Dhabi, UAE (Dec. 4-13, 2015)
Women's Ranking winner: Shayna Ng, Singapore
2015 World Bowling Tour #19
(WBT Major)
Rolltech PBA World Championships
National Bowling Stadium in Reno, Nev., United States (Dec. 12-17, 2015)
Champion: Gary Faulkner Jr., United States
Women's Ranking winner: Liz Kuhlkin, United States
2015 World Bowling Tour Finals
Indianapolis, Ind., United States (Feb. 13, 2016)
Men's Champion: Dom Barrett, England
Women's Champion: Danielle McEwan, United States