Williams, Mohr, Kulick hold early PBA World Championships leads
09/01/09
2009-10 PBA Tour #7
Thunderbowl Lanes in Allen Park, Mich. (Aug. 30-Sept. 4, 2009)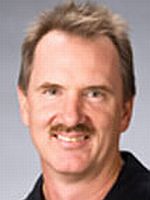 Walter Ray Williams Jr.
(pictured left) seeking an eighth major title and a record 46th Professional Bowlers Association Tour victory, averaged 244.17 to take the early lead in the PBA World Championship at Thunderbowl Lanes Monday.
Three-time 2009 PBA Senior Tour champion
Ron Mohr
of Eagle River, Alaska, and
Kelly Kulick
of Union, N.J., led the Senior and Women's World Championships, respectively.
Williams, the top qualifier in the Motor City Open, the first tournament in the five-week-long PBA World Series of Bowling, posted a six-game total of 1,465 pins to lead
Mika Koivuniemi
of Hartland, Mich. Two-time defending champion
Norm Duke
of Clermont, Fla., was in a tie for 42nd place after the opening round at 1,296, 169 pins behind Williams.
"I had some fun today," Williams said. "It seemed like I threw more strikes today than I did in 14 games on the Shark pattern last week.
"I started playing way outside and then moved in to second arrow," the Ocala, Fla., right-hander added. "I had a real nice ball reaction and the pins cooperated. I'm happy to be where I am."
Ron Mohr
(pictured right), who took a decided lead in PBA Senior Player of the Year race with his third victory of the year in last week's Senior Dick Weber Open in Lansing, Mich., had a 1,423 pinfall total – a 237 average pace – for his six games and a 62-pin lead over
Michael Henry
of Brunswick, Ohio,.
"I'm real pleased," the Eagle River, Alaska, resident said. "I drilled a new ball and it was the right answer. You need good roll here and not so much power in order to get good pin carry, and that was my answer today."
Kelly Kulick
(pictured left) rolled the first 300 game of the World Championships tripleheader, and the first by a woman in five PBA Women's Series presented by BOWL.COM events, to post a six-game total of 1,432 pins and a 35-pin lead over
Michelle Feldman
of Auburn, N.Y.
Kulick, who won an intense seven-game, 4-3 match play battle against Liz Johnson of Cheektowaga, N.Y., Saturday to clinch a spot in the PBA Shark Women's Championships title match, said the momentum from that contest carried over into the inaugural PBA Women's World Championship.
"Bowling the first 300 by a woman in the World Series is pretty special," the Union, N.J., resident said. "My confidence is definitely a lot stronger after my match with Liz. Today it was a combination of having the right ball, matching up with the lanes and making good shots. It all worked."
All players in the three PBA World Championship events will bowl additional six-game qualifying rounds Tuesday and Wednesday. After a six-game semifinal round Thursday morning, the top 40 men, top 20 senior and top 20 women qualifiers will advance to best-of-seven-game, single-elimination match play Thursday night and Friday.
The Women's and Senior World Championship title matches will be contested Saturday at noon for delayed telecast on ESPN. The men's finals will be contested live on ESPN on Dec. 13 at Northrock Lanes in Wichita, Kan.
With 18 games to go in the PBA World Series of Bowling Lumber Leader race,
Chris Barnes
of Double Oak, Texas, is the leader in the race for a $10,000 bonus with a combined total of 20,121 games for 91 qualifying games. Steve Jaros of Yorkville, Ill., is second, exactly 100 pins behind.
 
Related Articles
Norm Duke
seeks third straight PBA World Championship as "tripleheader" gets underway
 
PBA World Championship
First Round Qualifying (top 50 after 6 games)
1, Walter Ray Williams Jr., Ocala, Fla., 1,465
2, Mika Koivuniemi, Hartland, Mich., 1,422
3, Wes Malott, Pflugerville, Texas, 1,414
4, Mike Scroggins, Amarillo, Texas, 1,406
5, Tommy Jones, Simpsonville, S.C., 1,400
6, Jeffrey Roche, Dearborn, Mich., 1,397
7, (tie) Anthony LaCaze, Melrose Park, Ill., and Brian Voss, Alpharetta, Ga., 1,396
9, Chris Barnes, Double Oak, Texas, 1,393
10, Brian Himmler, Cincinnati, 1,384
11, Robert Lawrence, Austin, Texas, 1,383
12, Jeff Carter, Springfield, Ill., 1,379
13, Lonnie Waliczek, Wichita, Kan., 1,375
14, Thomas Smallwood, Saginaw, Mich., 1,372
15, (tie) Derek Sapp, Keokuk, Iowa, and Mike DeVaney, San Diego, 1,371
17, (tie) Chris Johnson, Garland, Texas, and Chad Kloss, Greenfield, Wis., 1,361
19, (tie) Sean Rash, Wichita, Kan., and Jason Sterner, McDonough, Ga., 1,360
21, Jason Belmonte, Australia, 1,359
22, Craig Hanson, Orlando, Fla., 1,354
23, Edward VanDaniker Jr., Essex, Md., 1,352
24, Tom Daugherty, Tampa, Fla., 1,351
25, Michael Fagan, Patchogue, N.Y., 1,349
26, Brian Kretzer, Dayton, Ohio, 1,343
27, Timothy Behrendt, St. Louis, 1,337
28, Doug Kent, Newark, N.Y., 1,335
29, Pete Weber, St. Ann, Mo., 1,329
30, Bill O'Neill, Southampton, Pa., 1,326
31, Jason Poli, West Des Moines, Iowa, 1,320
32, Steve Jaros, Yorkville, Ill., 1,316
33, Mike Wolfe, New Albany, Ind., 1,313
34, (tie) Jesse Buss, Wichita, Kan., and Jeffrey Edwards, Sterling Hts., Mich., 1,306
36, (tie) Nathan Bohr, Wichita, Kan., and Todd Book, Wapakoneta, Ohio, 1,305
38, (tie) Jay Futrell, Derby, Kan., and Dan MacLelland, Saginaw, Mich., 1,302
40, Dave D'Entremont, Middleburg Heights, Ohio, 1,301
41, Michael Haugen Jr., Carefree, Ariz., 1,297
42, (tie) Mike Williams II, Montgomery, Ala., and Norm Duke, Clermont, Fla., 1,296
44, Jack Jurek, Lackawanna, N.Y., 1,295
45, Johnathan Bower, Middletown, Pa., 1,293
46, Dino Castillo, Carrollton, Texas, 1,292
47, Allan Smith, Augusta, Ga., 1,291
48, Lee Vanderhoef, Greenville, S.C., 1,289
49, (tie) Eugene McCune, Munster, Ind., and Steve Harman, Indianapolis, 1,286
 
PBA Senior World Championship
First Round Qualifying (top 50 after 6 games)
1, Ron Mohr, Eagle River, Alaska, 1,423
2, Michael Henry, Brunswick, Ohio, 1,361
3, Tom Baker, King, N.C., 1,359
4, Henry Gonzalez, Colorado Springs, Colo., 1,355
5, Robert Harvey, Boise, Idaho, 1,339
6, Brian Brazeau, Ocala, Fla., 1,326
7, Wayne Webb, Sacramento, Calif., 1,323
8, Kerry Painter, Henderson, Nev., 1,309
9, Hugh Miller, Mercer Island, Wash., 1,304
10, Charlie Tapp, Kalamazoo, Mich., 1,298
11, Jeff Schrum, Cherryville, N.C., 1,293
12, John Di Santis, Wilmington, Del., 1,273
13, Dick Selgo, Archbold, Ohio, 1,256
14, Michael Lucente, Warren, Mich., 1,255
15, Dale Eagle, Frisco, Texas, 1,251
16, Steve Neff, Homosassa Springs, Fla., 1,243
17, Vince Honeycutt, Buford, Ga., 1,236
18, Bill Nichols, Roseville, Calif., 1,234
19, Barry Gurney, West Hills, Calif., 1,233
20, Tom Carter, Rockford, Ill., 1,231
21, (tie) Dale Traber, Cedarburg, Wis., and Emilio Mora Sr., Defiance, Ohio, 1,230
23, (tie) Mark Williams, Beaumont, Texas, and Ted Hannahs, Zanesville, Ohio, 1,228
25, Bobby Johnson, Chillicothe, Ohio, 1,220
26, Kent Wagner, Palmetto, Fla., 1,218
27, Michael Chrzanowski, Shepherd, Mich., 1,215
28, Dave Sill, Cary, Ill., 1,211
29, Douglas Kirkman, Clovis, N.M., 1,207
30, Rick Minier, Houston, 1,206
31, (tie) Max Shellabarger, Ogden, Utah, and Harry Sullins, Chesterfield Twp., Mich., 1,204
33, (tie) Timothy Kauble, Marion, Ohio, and Dale Csuhta, Wadsworth, Ohio, 1,202
35, Dave Soutar, Bradenton, Fla., 1,197
36, Christopher Keane, New City, N.Y., 1,196
37, William Banks, Laurel Hill, N.C., 1,195
38, Bob Kelly, Dayton, Ohio, 1,194
39, Derek Smith, Hicksville, Ohio, 1,193
40, (tie) Jim Gordin, Modesto, Calif., and Les Shirwindt, Las Vegas, 1,189
42, (tie) John Petraglia, Jackson, N.J., and Dave Flemming, Fairborn, Ohio, 1,188
44, (tie) John Dudak, Orland Park, Ill., and Rick Vittone, Canada, 1,186
46, Larry Franz, Redford, Mich., 1,180
47, Bob Chamberlain, Auburn Hills, Mich., 1,179
48, Bill Spigner, Vernon Hills, Ill., 1,176
49, Darryl Bower, Middletown, Pa., 1,174
50, Tim Ruelle, Racine, Wis., 1,171
 
PBA Women's World Championship
First Round Qualifying (top 25 after 6 games)
1, Kelly Kulick, Union, N.J., 1,432
2, Michelle Feldman, Auburn, N.Y., 1,397
3, Shannon Pluhowsky, Phoenix, 1,343
4, Robin Orlikowski, Grand Rapids, Mich., 1,328
5, Missy Bellinder, Fullerton, Calif., 1,318
6, Amanda Fagan, Patchogue, N.Y., 1,315
7, Diandra Asbaty, Chicago, 1,303
8, Jodi Woessner, Oregon, Ohio, 1,302
9, (tie) Wendy Macpherson, Henderson, Nev., and Cheryl Daniels, West Bloomfield, Mich., 1,295
11, Adrienne Miller, Albuquerque, N.M., 1,289
12, Lindsay Baker, Waterford, Mich., 1,286
13, Carolyn Dorin-Ballard, Keller, Texas, 1,280
14, Joy Esterson, Annapolis, Md., 1,253
15, Shannon O'Keefe, Arlington, Texas, 1,247
16, Cathy Dorin-Lizzi, Sandusky, Ohio, 1,230
17, Leslie Bohn, Jackson, N.J., 1,228
18, Elysia Current, Ephrata, Pa., 1,221
19, Tammy Boomershine, North Ogden, Utah, 1,215
20, Paoloa Gomez, Colombia, 1,199
21, Liz Johnson, Cheektowaga, N.Y., 1,197
22, Jennifer Petrick, Canton, Ohio, 1,194
23, Lisa Bishop, Belleville, Mich., 1,191
24, Christine Bator, Warren, Mich., 1,189
25, Aumi Guerra, Dominican Republic, 1,176