Amleto Monacelli leads after first Match Play Round in Suncoast PBA Senior U.S. Open
06/07/13
2013 PBA50 Tour #6
24-player field returns Friday for two more match play rounds to determine top four for stepladder finals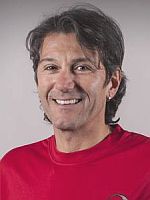 Venezuelan
Amleto Monacelli
(pictured left) moved a step closer to successfully defending his 2012 Suncoast PBA Senior U.S. Open presented by Storm title by leading after Thursday's fourth round of the 2013 edition of the PBA50 Tour season's first major at the Suncoast Bowling Center in Las Vegas.
The Hall of Famer and 2012 PBA50 Rookie of the Year compiled a 5-3 match play record and leads with a 7,203 32-game pinfall total which includes 30 bonus points for each match play win. He averaged 224.2 for the round bowling games of 299, 195, 203, 179, 249, 213, 243 and 213.
"I was fortunate to start with the 299 because it got a lot tougher the next three games," Monacelli said. "I would say this is the toughest tournament I've bowled in since bowling on the senior (PBA50) tour.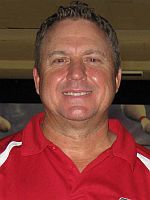 "I keep reminding myself to stay calm and analyze the situation game by game. I'm not even thinking about scores or matches, I'm thinking about making the right choices and executing."
Monacelli holds a 168-pin lead over fellow Hall of Famer
Randy Pedersen
(right) of Clermont, Fla., who is trying to win his second consecutive title after winning the
PBA50 Dayton Classic
in Ohio three weeks ago in his PBA50 Tour debut.
After dropping from second to seventh after the third qualifying round, Pedersen was bolstered by a 7-1 match play record in the first match play round bowling games of 217, 214, 181, 222, 222, 214, 243 and 193.
"I needed those bonus pins for the match wins because it was a decent but not great round," Pedersen said. "I got lucky on a few hits which helped me win a couple matches and had some matches where I was fortunate my opponents didn't throw anything big at me."
Hall of Famer
Wayne Webb
(left) of Columbus, Ohio, trying to become the first three-time Senior U.S. Open winner, dropped from the tournament lead after the final qualifying round to finish the day in third with 7,019, struggling in match play with a 2-6 record and averaging 206.7.
Bryan Goebel
(right) of Shawnee, Kan., a 10-time winner on the PBA Tour, moved into fourth with 6,935. He finished with a 4-4 match play record and averaged 210.7 for the first match play round.
Reigning PBA50 Player of the Year and last year's Senior U.S. Open runner-up to Monacelli, Hall of Famer
Walter Ray Williams Jr.
(left), of Ocala, Fla., surged into fifth with 6,927 pinfall thanks to a 5-3 match play record and averaging 218.8. Williams has made a steady charge each round after finishing 50th after the first round of qualifying on Tuesday.
The 24-player match play field returns Friday for two more eight-game rounds that will determine the top four players who will advance to the stepladder finals scheduled to begin at 4 p.m. PT.
PBA's online bowling channel Xtra Frame is providing start-to-finish coverage of the Senior U.S. Open.
 
Related Articles
Ron Mohr
takes over lead after second round qualifying at Suncoast PBA Senior U.S. Open
PBA50 Tour rookie
Jack Jurek
sets the early pace in Suncoast PBA Senior U.S. Open
Amleto Monacelli
hopes to repeat as Senior U.S. Open champion
2013 PBA50 Tour
Schedule & Champions
 
Suncoast PBA Senior U.S. Open - Match Play Round One (fourth round overall)
Players with position, hometown, 32-game total, match play record and total pins (30 bonus pins for each win, 15 for a tie). All players advance to two more eight-game match play rounds Friday. a indicates amateur.
1, Amleto Monacelli, Venezuela, 5-3, 7,203
2, Randy Pedersen, Clermont, Fla., 7-1, 7,035
3, Wayne Webb, Columbus, Ohio, 2-6, 7,019
4, Bryan Goebel, Shawnee, Kan., 4-4, 6,935
5, Walter Ray Williams Jr., Ocala, Fla., 5-3, 6,927
6, (tie) Ron Mohr, Eagle River, Alaska, 5-2-1, and Harry Sullins, Chesterfield Twp., Mich., 4-4, 6,923
8, Lennie Boresch Jr., Kenosha, Wis., 5-3, 6,921
9, Jack Jurek, Lackawanna, N.Y., 4-4, 6,908
10, Eric Forkel, Las Vegas, 6-2, 6,897
11, Bo Goergen, Sanford, Mich., 4-4, 6,871
12, Jeff Richgels, Madison, Wis., 6-2, 6,870
13, Tom Baker, King, N.C., 3-4-1, 6,836
14, Peter Knopp, Germany, 5-3, 6,815
15, a-Bob Markiewicz, San Diego, 5-3, 6,792
16, Marv Sargent, Temecula, Calif., 4-4, 6,783
17, Hugh Miller, Seattle, 3-5, 6,774
18, Kevin Croucher, Grants Pass, Ore., 3-4-1, 6,686
19, Mike Edwards, Tulsa, Okla., 4-4, 6,684
20, Mark Williams, Beaumont, Texas, 2-6, 6,668
21, a-Roger Kossert, Lithia, Fla., 2-6, 6,652
22, Dale Traber, Cedarburg, Wis., 1-6-1, 6,649
23, Ron Winger, Las Vegas, 1-7, 6,648
24, Kerry Painter, Henderson, Nev., 3-5, 6,623
 
Suncoast PBA Senior U.S. Open - Third Round Qualifying
Players with position, hometown and 24-game total. The top 24 advance to first match play round. a indicates amateur
1, Wayne Webb, Columbus, Ohio, 5,305
2, Amleto Monacelli, Venezuela, 5,259
3, Harry Sullins, Chesterfield Twp, Mich., 5,235
4, Ron Mohr, Eagle River, Alaska, 5,130
5, Bryan Goebel, Shawnee, Kan., 5,129
6, Bo Goergen, Sanford, Mich., 5,121
7, Randy Pedersen, Clermont, Fla., 5,119
8, Jack Jurek, Lackawanna, N.Y., 5,117
9, Lennie Boresch Jr., Kenosha, Wis., 5,071
10, Marv Sargent, Temecula, Calif., 5,059
11, a-Roger Kossert, Lithia, Fla., 5,045
12, Mark Williams, Beaumont, Texas, 5,041
13, Dale Traber, Cedarburg, Wis., 5,038
14, Walter Ray Williams Jr., Ocala, Fla., 5,026
15, Kerry Painter, Henderson, Nev., 5,012
16, Jeff Richgels, Madison, Wis., 4,992
17, Ron Winger, Las Vegas, 4,987
18, Kevin Croucher, Grants Pass, Ore., 4,973
19, Tom Baker, King, N.C., 4,962
20, Peter Knopp, Germany, 4,959
21, Hugh Miller, Seattle, 4,957
22, a-Bob Markiewicz, San Diego, 4,951
23, Mike Edwards, Tulsa, Okla., 4,928
24, Eric Forkel, Las Vegas, 4,916
Missed Cut:
25, a-Jeff Suma , Auburn Hills, Mich., 4,891, $1,200
26, Paul McCordic, Sugar Land, Texas, 4,890, $1,180
27, a-Henry Dawson, Elma, Wash., 4,888, $1,160
28, a-Michael Lucente, Warren, Mich., 4,887, $1,140
29, Kent Wagner, Palmetto, Fla., 4,883, $1,120
30, a-Barry Zimmerman, Grand Forks, N.D., 4,878, $1,100
31, Emilio Mora Sr., Defiance, Ohio, 4,876, $1,080
32, Bob Learn Jr., Erie, Pa., 4,869, $1,060
33, Nick Morgan, Sacramento, Calif., 4,860, $1,050
34, Robert Lawrence, Austin, Texas, 4,850, $1,040
35, a-John Kirker, Taftville, Conn., 4,840, $1,030
36, Ted Staikoff, Black Hawk, S.D., 4,831, $1,020
37, Dale Eagle, Tavares, Fla., 4,827, $1,010
38, Rob Rice, Sunnyside, Wash., 4,816, $1,000
39, Edward Silva, Manteca, Calif., 4,814, $990
40, Charlie Tapp, Kalamazoo, Mich., 4,812, $980
41, Rick Minier, Houston, Texas, 4,810, $970
42, Sammy Ventura, Syracuse, N.Y., 4,804, $960
43, Terry Metzner, Kentwood, Mich., 4,802, $950
44, Jerry Sikora, Wisconsin Rapids, Wis., 4,800, $945
45, a-Pete Thomas, Oklahoma City, Okla., 4,797, $940
46, a-Ed Roberts, Braintree, Mass., 4,790, $935
47, Michael Tryniski, Fulton, N.Y., 4,781, $930
48, Robert Harvey, Boise, Idaho, 4,776, $925
49, a-Robin Romeo, Newhall, Calif., 4,764, $920
50, Brad Snell, Mount Prospect, Ill., 4,762, $915
51, Doug Kempt, Monrovia, Calif., 4,727, $910
52, John Dudak, Orland Park, Ill., 4,674, $905
53, Rick Woloszyn, Griffith, Ind., 4,660, $900