Asian countries dominate the first squad of the Women's Trios event
08/24/13
2013 World Championships
Korea, Chinese Taipei, Singapore and Japan hold the top four spots after the first block on the short oil pattern
Four trios from the Asian Bowling Federation set the pace in the first squad of the Women's Trios event to lead the field of 34 countries after the first block on the 33-feet
Sydney
pattern.
World Champion in Singles,
Ryu Seo-Yeon
(center), and her team mates
Lee Na-Young
(left) and
Son Yun-Hee
(right) rolled games of 631, 736 and 643 en route to take the pole position with 2010 total and an average of 223.33.
Son led the team way with 685 closely followed by Lee and Ryu with 669 and 656, respectively.
Trailing the Koreans by 113 pins were the spinners from Chinese Taipei, Singles bronze and silver medalists,
Huang Chiung-Yao
and
Wang Ya-Ting
and their team mate
Chou Chia-Chen
(left, l-r), who started with 737, the highest game of the day so far, and added 561 and 599 for 1897 (210.78).
Singapore's
Shayna Ng
,
Bernice Lim
and
Jazreel Tan
(right, r-l) finished the round with a big 670 game to move into third place with 1862 (206.89). Lim had the only 700-series in the squad of 717 including games of 247, 223 and 247.
Fourth place belonged to
Misaki Mukotani
,
Haruka Matsuda
and
Natsuki Teshima
(left, l-r) of Japan, who sandwiched a high game of 668 between games of 578 and 587 for 1833 (203.77).
The only other trio which averaged over 200 came from the Netherlands.
Lisanne Breeschoten
,
Wendy Kok
and
Ghislaine van der Tol
(right, l-r) followed games of 562 and 591 with a final 656 game to sit in fifth place with 1809 (201.00).
Sweden's
Isabelle Hultin
,
Rebecka Larsen
and
Joline Persson Planefors
(left, l-r) were mere eleven pins behind in sixth place with 1798.
Defending World Champions
Shannon Pluhowsky
,
Stefanie Nation
and
Shannon O'Keefe
(right, l-r) from the United States had games of 564, 594 and 586 to sit in seventh place with 1744.
Australia's
Rebecca Voukolos
,
Rebecca Whiting
and
Jacinta Gilliland
(left, l-r) tied the Americans at 1744 in eighth place followed by
Rocio Restrepo
,
Maria Jose Rodriguez
and
Clara Guerrero
(right, l-r)Â  of Colombia in ninth place with 1741.
Rounding out the top ten were
Krizziah Tabora, Liza Del Rosario
and
Rachelle Leon
(below left, l-r) from the Philippines, who were just four pins behind the Colombians with 1737.
With 15 of 24 games in All-Events (combined qualifying results in Singles, Doubles, Trios and Team) in the books, Chinese Taipei's
Wang Ya-Ting
(right) and
Huang Chiung-Yao
are tied for first place with 3364 apiece and an average of 224.27.
Bernice Lim
jumped into third place with 3338 (222.53) thanks to her 717 series today. Places four and five belong to Koreans
Ryu Seo-Yeon
and
Lee Na-Young
with 3309 and 3289, respectively.
Squad 2 bowlers bowl their first block on short oil on Saturday afternoon. Both squads will return on Monday to bowl the second block on long oil in revised order. The top 4 after six games will advance to medal round, which will take place on Monday evening.
Bowlingdigital's Photo Album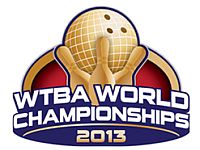 The
World Tenpin Bowling Association World Championships
run from Aug. 16 thru 31, 2013 at Sunset Station's Strike Zone in Henderson, Nev. in the Las Vegas area. The Championships will award medals in six disciplines - Singles, Doubles, Trios, Team, All Events and Masters.
The entire competition will be broadcast live on BOWL.com's BowlTV. Bowling fans will be able to watch live and on demand for free. The schedule is available at
BOWL.com/LiveStream
.
 
Related Articles
O'Neill, Jones and Barnes
hold on to the lead as Men's Trios event reaches halfway mark
Slow motion video
of the women's players' releases, ball motion and pin action
Team USA's
O'Neill, Jones and Barnes
set the tone in Men's Trios at World Championships
USA's
Nation/O'Keefe
beat team mates Kulick/Parkin to win the gold medal in Women's Doubles
Venezuela's
Marcano sisters
average 240 to take the lead in Women's Doubles
Slow motion video
of the men's players' releases, ball motion and pin action
Team USA's
Szczerbinski and Barnes
shoot 569 to cruise to the Doubles gold
Team USA's
Barnes, Szczerbinski
in top qualifying position after Doubles Squad 1
Korea's
Ryu Seo-Yeon
defeats Chinese Taipei's spinners to win Women's Singles title
Chinese Taipei spinner
Wang Ya-Ting
is the early leader in Women's Singles
Bill O'Neill
starts 2013 WTBA World Championships with victory in Men's Singles
Bodo Konieczny
sets the pace in Men's Singles at the 2013 Bowling World Championships
2013 World Championships kick off Sunday with the
Official Practice
Strike Gold Celebrity Challenge
helps usher in 2013 World Championships
Photos
from World Championships opening ceremony
Championship Preview
More Stories
 
Women's Trios - Qualifying Squad 1 (first block)
Women's Trios - Squad 1 after the first block of Qualifying (short oil)
The top four trios after six games (first block on short oil, second block on long oil) will advance to the Medal Round
| | | | | | | | | | | | |
| --- | --- | --- | --- | --- | --- | --- | --- | --- | --- | --- | --- |
| Pos | Player/Country | G1 | G2 | G3 | G1-3 | G4 | G5 | G6 | G4-6 | Pins | Avg. |
| 1. | Korea | 631 | 736 | 643 | 2010 | | | | | 2010 | 223.33 |
| | Ryu Seo-Yeon | 200 | 245 | 211 | 656 | | | | | 656 | 218.67 |
| | Lee Na-Young | 231 | 234 | 204 | 669 | | | | | 669 | 223.00 |
| | Son Yun-Hee | 200 | 257 | 228 | 685 | | | | | 685 | 228.33 |
| 2. | Chinese Taipei | 737 | 561 | 599 | 1897 | | | | | 1897 | 210.78 |
| | Huang Chiung-Yao | 268 | 188 | 190 | 646 | | | | | 646 | 215.33 |
| | Chou Chia-Chen | 215 | 178 | 174 | 567 | | | | | 567 | 189.00 |
| | Wang Ya-Ting | 254 | 195 | 235 | 684 | | | | | 684 | 228.00 |
| 3. | Singapore | 629 | 563 | 670 | 1862 | | | | | 1862 | 206.89 |
| | Shayna Ng | 202 | 139 | 200 | 541 | | | | | 541 | 180.33 |
| | Bernice Lim | 247 | 223 | 247 | 717 | | | | | 717 | 239.00 |
| | Jazreel Tan | 180 | 201 | 223 | 604 | | | | | 604 | 201.33 |
| 4. | Japan | 578 | 668 | 587 | 1833 | | | | | 1833 | 203.67 |
| | Natsuki Teshima | 216 | 169 | 173 | 558 | | | | | 558 | 186.00 |
| | Misaki Mukotani | 159 | 269 | 223 | 651 | | | | | 651 | 217.00 |
| | Haruka Matsuda | 203 | 230 | 191 | 624 | | | | | 624 | 208.00 |
| 5. | Netherlands | 562 | 591 | 656 | 1809 | | | | | 1809 | 201.00 |
| | Lisanne Breeschoten | 200 | 201 | 238 | 639 | | | | | 639 | 213.00 |
| | Wendy Kok | 186 | 182 | 207 | 575 | | | | | 575 | 191.67 |
| | Ghislaine van der Tol | 176 | 208 | 211 | 595 | | | | | 595 | 198.33 |
| 6. | Sweden | 660 | 559 | 579 | 1798 | | | | | 1798 | 199.78 |
| | Joline Persson Planefors | 208 | 192 | 205 | 605 | | | | | 605 | 201.67 |
| | Isabelle Hultin | 245 | 201 | 201 | 647 | | | | | 647 | 215.67 |
| | Rebecka Larsen | 207 | 166 | 173 | 546 | | | | | 546 | 182.00 |
| 7. | United States | 564 | 594 | 586 | 1744 | | | | | 1744 | 193.78 |
| | Shannon Pluhowsky | 178 | 233 | 181 | 592 | | | | | 592 | 197.33 |
| | Stefanie Nation | 193 | 140 | 202 | 535 | | | | | 535 | 178.33 |
| | Shannon O'Keefe | 193 | 221 | 203 | 617 | | | | | 617 | 205.67 |
| 8. | Australia | 582 | 618 | 544 | 1744 | | | | | 1744 | 193.78 |
| | Rebecca Voukolos | 181 | 191 | 221 | 593 | | | | | 593 | 197.67 |
| | Jacinta Gilliland | 195 | 222 | 156 | 573 | | | | | 573 | 191.00 |
| | Rebecca Whiting | 206 | 205 | 167 | 578 | | | | | 578 | 192.67 |
| 9. | Colombia | 495 | 656 | 590 | 1741 | | | | | 1741 | 193.44 |
| | Rocio Restrepo | 132 | 245 | 199 | 576 | | | | | 576 | 192.00 |
| | Maria Jose Rodriguez | 217 | 227 | 184 | 628 | | | | | 628 | 209.33 |
| | Clara Guerrero | 146 | 184 | 207 | 537 | | | | | 537 | 179.00 |
| 10. | Philippines | 593 | 537 | 607 | 1737 | | | | | 1737 | 193.00 |
| | Liza Del Rosario | 201 | 185 | 204 | 590 | | | | | 590 | 196.67 |
| | Krizziah Tabora | 181 | 216 | 230 | 627 | | | | | 627 | 209.00 |
| | Rachelle Leon | 211 | 136 | 173 | 520 | | | | | 520 | 173.33 |
| 11. | England | 562 | 555 | 610 | 1727 | | | | | 1727 | 191.89 |
| | Autum Chamberlain | 157 | 167 | 181 | 505 | | | | | 505 | 168.33 |
| | Hayley Rumkee | 224 | 170 | 217 | 611 | | | | | 611 | 203.67 |
| | Lisa John | 181 | 218 | 212 | 611 | | | | | 611 | 203.67 |
| 12. | Latvia | 554 | 586 | 581 | 1721 | | | | | 1721 | 191.22 |
| | Diana Zavjalova | 224 | 237 | 213 | 674 | | | | | 674 | 224.67 |
| | Baiba Baltmane | 155 | 168 | 182 | 505 | | | | | 505 | 168.33 |
| | Jelena Brandt | 175 | 181 | 186 | 542 | | | | | 542 | 180.67 |
| 13. | Poland | 569 | 548 | 603 | 1720 | | | | | 1720 | 191.11 |
| | Lucyna Charezinska | 169 | 161 | 181 | 511 | | | | | 511 | 170.33 |
| | Greta Frost | 186 | 226 | 191 | 603 | | | | | 603 | 201.00 |
| | Daria Pajak | 214 | 161 | 231 | 606 | | | | | 606 | 202.00 |
| 14. | Denmark | 584 | 582 | 544 | 1710 | | | | | 1710 | 190.00 |
| | Kamilla Kjeldsen | 176 | 173 | 178 | 527 | | | | | 527 | 175.67 |
| | Britt Brøndsted | 173 | 193 | 160 | 526 | | | | | 526 | 175.33 |
| | Mai Ginge Jensen | 235 | 216 | 206 | 657 | | | | | 657 | 219.00 |
| 15. | Venezuela | 613 | 620 | 458 | 1691 | | | | | 1691 | 187.89 |
| | Patricia De Faria | 233 | 187 | 149 | 569 | | | | | 569 | 189.67 |
| | Eny Diaz | 203 | 235 | 180 | 618 | | | | | 618 | 206.00 |
| | Esther Francys Alvarez | 177 | 198 | 129 | 504 | | | | | 504 | 168.00 |
| 16. | Malaysia | 591 | 547 | 543 | 1681 | | | | | 1681 | 186.78 |
| | Siti Safiyah | 191 | 176 | 220 | 587 | | | | | 587 | 195.67 |
| | Jacqueline Sijore | 200 | 209 | 171 | 580 | | | | | 580 | 193.33 |
| | Zandra Aziela | 200 | 162 | 152 | 514 | | | | | 514 | 171.33 |
| 17. | France | 513 | 553 | 607 | 1673 | | | | | 1673 | 185.89 |
| | Lauriane Celie | 157 | 224 | 187 | 568 | | | | | 568 | 189.33 |
| | Amandine Jacques | 181 | 173 | 215 | 569 | | | | | 569 | 189.67 |
| | Gaëlle Laplanche | 175 | 156 | 205 | 536 | | | | | 536 | 178.67 |
| 18. | Finland | 511 | 542 | 605 | 1658 | | | | | 1658 | 184.22 |
| | Nina Kovanen | 165 | 190 | 178 | 533 | | | | | 533 | 177.67 |
| | Hannele Impola | 170 | 162 | 200 | 532 | | | | | 532 | 177.33 |
| | Sanna Pasanen | 176 | 190 | 227 | 593 | | | | | 593 | 197.67 |
| 19. | China | 504 | 597 | 555 | 1656 | | | | | 1656 | 184.00 |
| | Sun Hongdou | 206 | 224 | 184 | 614 | | | | | 614 | 204.67 |
| | Li Qing | 136 | 183 | 189 | 508 | | | | | 508 | 169.33 |
| | Peng Rui | 162 | 190 | 182 | 534 | | | | | 534 | 178.00 |
| 20. | Germany | 507 | 544 | 603 | 1654 | | | | | 1654 | 183.78 |
| | Laura Beuthner | 174 | 156 | 177 | 507 | | | | | 507 | 169.00 |
| | Sandra Matz | 172 | 161 | 212 | 545 | | | | | 545 | 181.67 |
| | Birgit Pöppler | 161 | 227 | 214 | 602 | | | | | 602 | 200.67 |
| 21. | Dominican Republic | 561 | 532 | 535 | 1628 | | | | | 1628 | 180.89 |
| | Aida Sánchez | 166 | 196 | 168 | 530 | | | | | 530 | 176.67 |
| | Virginia Bello | 151 | 165 | 166 | 482 | | | | | 482 | 160.67 |
| | Aumi Guerra | 244 | 171 | 201 | 616 | | | | | 616 | 205.33 |
| 22. | Puerto Rico | 467 | 568 | 586 | 1621 | | | | | 1621 | 180.11 |
| | Neishka Cardona | 135 | 188 | 163 | 486 | | | | | 486 | 162.00 |
| | Mariana Ayala | 185 | 207 | 167 | 559 | | | | | 559 | 186.33 |
| | Kristie Lopez | 147 | 173 | 256 | 576 | | | | | 576 | 192.00 |
| 23. | Costa Rica | 545 | 552 | 514 | 1611 | | | | | 1611 | 179.00 |
| | Viviana Delgado | 176 | 178 | 187 | 541 | | | | | 541 | 180.33 |
| | Sylvia Villalobos | 147 | 161 | 146 | 454 | | | | | 454 | 151.33 |
| | Marie Ramirez | 222 | 213 | 181 | 616 | | | | | 616 | 205.33 |
| 24. | Israel | 489 | 606 | 495 | 1590 | | | | | 1590 | 176.67 |
| | Tali Itzhak | 144 | 197 | 159 | 500 | | | | | 500 | 166.67 |
| | Shahaf Antin | 201 | 218 | 167 | 586 | | | | | 586 | 195.33 |
| | Yifat Tal | 144 | 191 | 169 | 504 | | | | | 504 | 168.00 |
| 25. | Catalonia | 491 | 512 | 565 | 1568 | | | | | 1568 | 174.22 |
| | Noelia Rastrero | 155 | 156 | 163 | 474 | | | | | 474 | 158.00 |
| | Roser Romero | 161 | 147 | 202 | 510 | | | | | 510 | 170.00 |
| | Sandra Torrents | 175 | 209 | 200 | 584 | | | | | 584 | 194.67 |
| 26. | Mexico | 463 | 517 | 582 | 1562 | | | | | 1562 | 173.56 |
| | Gabriela Hernandez | 145 | 190 | 195 | 530 | | | | | 530 | 176.67 |
| | Adriana Ortega | 178 | 175 | 169 | 522 | | | | | 522 | 174.00 |
| | Tannya Lopez | 140 | 152 | 218 | 510 | | | | | 510 | 170.00 |
| 27. | Lithuania | 464 | 587 | 502 | 1553 | | | | | 1553 | 172.56 |
| | Jurate Palaimaite | 159 | 183 | 125 | 467 | | | | | 467 | 155.67 |
| | Daiva Seleniene | 194 | 182 | 161 | 537 | | | | | 537 | 179.00 |
| | Inga Malinauskiene | 111 | 222 | 216 | 549 | | | | | 549 | 183.00 |
| 28. | Macau | 474 | 558 | 510 | 1542 | | | | | 1542 | 171.33 |
| | Lam Sou Keng | 136 | 180 | 156 | 472 | | | | | 472 | 157.33 |
| | Chan Weng Sam | 168 | 220 | 177 | 565 | | | | | 565 | 188.33 |
| | Veronica Dias De Souza | 170 | 158 | 177 | 505 | | | | | 505 | 168.33 |
| 29. | Canada | 492 | 460 | 588 | 1540 | | | | | 1540 | 171.11 |
| | Jo-Ann Sanesac | 145 | 180 | 223 | 548 | | | | | 548 | 182.67 |
| | Alyssa Cicconi | 158 | 143 | 177 | 478 | | | | | 478 | 159.33 |
| | Lynne Gauthier | 189 | 137 | 188 | 514 | | | | | 514 | 171.33 |
| 30. | Italy | 500 | 513 | 522 | 1535 | | | | | 1535 | 170.56 |
| | Maria Tiragallo | 154 | 208 | 204 | 566 | | | | | 566 | 188.67 |
| | Vanessa Benetazzo | 171 | 149 | 164 | 484 | | | | | 484 | 161.33 |
| | Helga Di Benedetto | 175 | 156 | 154 | 485 | | | | | 485 | 161.67 |
| 31. | Hong Kong | 590 | 473 | 448 | 1511 | | | | | 1511 | 167.89 |
| | Victoria Chan | 208 | 154 | 135 | 497 | | | | | 497 | 165.67 |
| | Milki Ng | 216 | 158 | 169 | 543 | | | | | 543 | 181.00 |
| | Joan Cheng | 166 | 161 | 144 | 471 | | | | | 471 | 157.00 |
| 32. | Indonesia | 459 | 533 | 492 | 1484 | | | | | 1484 | 164.89 |
| | Ivana Hie | 142 | 184 | 150 | 476 | | | | | 476 | 158.67 |
| | Puteri Saputro | 160 | 158 | 163 | 481 | | | | | 481 | 160.33 |
| | Alisha Larasati | 157 | 191 | 179 | 527 | | | | | 527 | 175.67 |
| 33. | New Zealand | 515 | 474 | 483 | 1472 | | | | | 1472 | 163.56 |
| | Sarah Young | 168 | 157 | 169 | 494 | | | | | 494 | 164.67 |
| | Christine Rota | 187 | 147 | 144 | 478 | | | | | 478 | 159.33 |
| | Brooke Malone | 160 | 170 | 170 | 500 | | | | | 500 | 166.67 |
| 34. | Brazil | 489 | 453 | 481 | 1423 | | | | | 1423 | 158.11 |
| | Stephanie Martins | 185 | 183 | 160 | 528 | | | | | 528 | 176.00 |
| | Sarah Guterman | 150 | 120 | 136 | 406 | | | | | 406 | 135.33 |
| | Roseli Santos | 154 | 150 | 185 | 489 | | | | | 489 | 163.00 |
 
World Championships - Women's All-Events