Chris Barnes earns the No. 1 seed for the stepladder finals of the PBA Tournament of Champions
01/23/10
2009-10 PBA Tour #10
Kulick, Page and Koivuniemi will determine the challenger
Chris Barnes
(pictured left), the 2007-08 PBA Player of the Year and 2006 Tournament of Champions winner, defeated
Tony Reyes
(right), 236-159, in the position round match to earn the No. 1 seed for the stepladder finals of the 45th Professional Bowlers Association Tournament of Champions at Red Rock Lanes in Las Vegas, Nev.
Barnes finished with an 11,322 48-game total and the field-best 19-5 match play record. Reyes, who was second after 47 games, slipped all the way out of the stepladder finals to finish in sixth place with 11,156.
Barnes is seeded into the championship match of the four-player stepladder finals, where he will bowl one game for the title.
"The lanes were a lot different for me in that block and I had to work a lot harder to score as well as I did," Barnes said, "but, I'm in the position I want to be and that's bowling one game for the title."
Rallying in dramatic form in the final match play round,
Kelly Kulick
(left) of Union, N.J., moved a step closer in her quest to become the first woman to win a Lumber Liquidators PBA Tour tournament by qualifying in the No. 2 position for the stepladder finals.
Going into the final round in sixth position and after starting with games of 174 and 172, Kulick came back with games of 223, 279, 277, 222, 236 and a 267 in the position round (against Rhino Page, right, 216) to make the final four for Sunday's stepladder finals which will be televised live on ESPN at 1 p.m. Eastern (10 a.m. Pacific).
Kulick, who earned a berth in the Tournament of Champions, by winning the PBA Women's World Championship, the first PBA women's major tournament, finished with an 11,265 48-game total and had an overall match play record of 14-9-1.
"Actually being in a position where I had to work my way back into the top four took pressure off of me," said the 32-year-old Kulick. "I've been in this situation many times before and I would rather fight to get there because for me there's less pressure than being on top."
After the first two games in the final block, Kulick had to change to another ball to get a better ball reaction on the lanes.
"I had those two bad games to start but I still wasn't too worried because there was a long way to go in the block," she added. "I went to another ball and started watching how the other guys were playing the lanes and it was like a strikefest for me."
As one of four PBA Tour major tournaments, the Tournament of Champions is considered PBA's signature event. Kulick is not a stranger to performing well in major tournaments. In women's professional competition she won the 2007 United States Bowling Congress Queens and the 2003 U.S. Women's Open in addition to winning the PBA Women's World Championship.
In 2006, Kulick became the first woman to earn an exemption on the PBA Tour by finishing sixth in the PBA Tour Trials. Her best finish in the 2006-07 season was 22nd which she accomplished twice. The previous high finish by a woman in a PBA Tour event was second by Liz Johnson of Cheektowaga, N.Y., in 2005.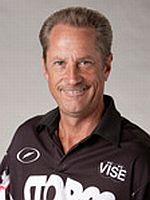 Sunday's first match will be between No. 3 qualifier
Mika Koivuniemi
(left) of Hartland, Mich. and No. 4 qualifier
Rhino Page
of Dade City, Fla.
Koivuniemi, a native of Finland, is an eight-time PBA Tour titlist including two majors and will be trying for his first Tournament of Champions win. He jumped from sixth to third in the position round with a 234-228 win over
Pete Weber
(right).
Koivuniemi, who was 332 pins off the pace for the top 4 after the first match play round, finished with 11,194 pinfall total and a 16-8 won-loss record.
Page, a three-time PBA Tour titlist, who suffered a heartbreaking championship match loss
last season
in the Tournament of Champions, will also be trying for his first Tournament of Champions win.
Despite his 267-216 loss in the position round to Kulick, the lefty beat out Weber for the fourth and last spot to advance by one pin. Page, who led the tournament in the first three rounds finished with 11,175 pinfall total including a 10-14 match play record and the field-best 226.56 average for 48 games.
The stepladder finals on Sunday will be televised live by ESPN at 1 p.m. Eastern (10 a.m. Pacific).
 
Related Articles

Chris Barnes takes lead in PBA Tournament of Champions heading into final match play round
Tony Reyes makes steady climb to PBA Tournament of Champions lead
Kelly Kulick making impressive showing as only woman in PBA Tournament of Champions
Rhino Page continues to lead in PBA Tournament of Champions after Round 2
Rhino Page leads after first round in PBA Tournament of Champions
PBA.com's Xtra Frame to provide unprecedented Tournament of Champions coverage
Elusive PBA Tournament of Champions crown still missing from Walter Ray Williams Jr.'s resume
45th PBA Tournament of Champions showcases Tour's elite
 
 
PBA Tournament of Champions - Standings after Match Play Round 3 (sixth round overall)

Players with position, hometown and 48-game total including match play records and bonus (30 per win). The top 4 advance to Sunday's stepladder finals at 1 p.m. Eastern.


| | | | | | | | | | | |
| --- | --- | --- | --- | --- | --- | --- | --- | --- | --- | --- |
| Pos | Player | Hometown | Games | Pins | Ave. | W-L-T | Bonus | Total | Pins back | Earnings |
| 1. | Chris Barnes | Double Oak, Texas | 48 | 10752 | 224.00 | 19-5-0 | 570 | 11322 | - | |
| 2. | Kelly Kulick | Union, N.J. | 48 | 10830 | 225.63 | 14-9-1 | 435 | 11265 | - | |
| 3. | Mika Koivuniemi | Hartland, Mich. | 48 | 10714 | 223.21 | 16-8-0 | 480 | 11194 | - | |
| 4. | Rhino Page | Dade City, Fla. | 48 | 10875 | 226.56 | 10-14-0 | 300 | 11175 | - | |
| 5. | Pete Weber | St. Ann, Mo. | 48 | 10784 | 224.67 | 13-11-0 | 390 | 11174 | -1 | $5,000 |
| 6. | Tony Reyes | San Bruno, Calif. | 48 | 10766 | 224.29 | 13-11-0 | 390 | 11156 | -19 | $4,600 |
| 7. | Wes Malott | Pflugerville, Texas | 48 | 10720 | 223.33 | 14-10-0 | 420 | 11140 | -35 | $4,200 |
| 8. | Tommy Jones | Simpsonville, S.C. | 48 | 10745 | 223.85 | 12-12-0 | 360 | 11105 | -70 | $4,000 |
| 9. | Mike Fagan | Patchogue, N.Y. | 48 | 10702 | 222.96 | 11-13-0 | 330 | 11032 | -143 | $3,800 |
| 10. | Mark Williams | Beaumont, Texas | 48 | 10512 | 219.00 | 13-10-1 | 405 | 10917 | -258 | $3,600 |
| 11. | Sean Rash | Wichita, Kan. | 48 | 10553 | 219.85 | 11-13-0 | 330 | 10883 | -292 | $3,400 |
| 12. | Walter Ray Williams Jr. | Ocala, Fla. | 48 | 10488 | 218.50 | 13-11-0 | 390 | 10878 | -297 | $3,200 |
| 13. | Dave Wodka | Chatsworth, Calif. | 48 | 10351 | 215.65 | 15-9-0 | 450 | 10801 | -374 | $3,000 |
| 14. | Harry Sullins | Chesterfield Twp., Mich. | 48 | 10410 | 216.88 | 12-11-1 | 375 | 10785 | -390 | $2,800 |
| 15. | Wayne Webb | Sacramento, Calif. | 48 | 10465 | 218.02 | 9-15-0 | 270 | 10735 | -440 | $2,700 |
| 16. | Danny Wiseman | Baltimore | 48 | 10211 | 212.73 | 16-8-0 | 480 | 10691 | -484 | $2,600 |
| 17. | Jason Couch | Clermont, Fla. | 48 | 10318 | 214.96 | 11-12-1 | 345 | 10663 | -512 | $2,500 |
| 18. | Brad Angelo | Lockport, N.Y. | 48 | 10285 | 214.27 | 11-13-0 | 330 | 10615 | -560 | $2,400 |
| 19. | Anthony LaCaze | Melrose Park, Ill. | 48 | 10311 | 214.81 | 9-15-0 | 270 | 10581 | -594 | $2,350 |
| 20. | John Nolen | Grand Blanc, Mich. | 48 | 10203 | 212.56 | 9-15-0 | 270 | 10473 | -702 | $2,300 |
| 21. | Joe Ciccone | Buffalo, N.Y. | 48 | 10083 | 210.06 | 11-13-0 | 330 | 10413 | -762 | $2,250 |
| 22. | Parker Bohn III | Jackson, N.J. | 48 | 10127 | 210.98 | 9-15-0 | 270 | 10397 | -778 | $2,200 |
| 23. | Bryan Goebel | Shawnee, Kan. | 48 | 10090 | 210.21 | 8-14-2 | 270 | 10360 | -815 | $2,150 |
| 24. | Ritchie Allen | Columbia, S.C. | 48 | 10069 | 209.77 | 6-18-0 | 180 | 10249 | -926 | $2,100 |