Tommy Jones wins two squads in Friday qualifying at Track Dream-Bowl Palace Open
07/26/14
2014 European Bowling Tour #11
PBA star leaps into second place with 1369; England's Dom Barrett continues to lead the 171-player field from 23 countries with 1375 (229.17 average); score to make the cut in 50th place surpasses the 1200-mark (1230, 205 average)
Tommy Jones
(pictured left), United States, won two qualifying squads Friday at Dream-Bowl Palace in Munich, Germany, en route to move into second place in the 171-player standings in the Track Dream-Bowl Palace Open by Erdinger.
The 15-time PBA champion, who is still looking to win his first title on the European Bowling Tour, posted his highest series of 1369 in Squad 12 including games of 236, 198, 257, 194, 279 and 205 but fell six pins short of the lead. Jones, who returned Friday night to win Squad 14 with 1288, pocketed 350 Euro each for accomplishing the feat.
Dominic Barrett
(right) of England continued to lead with 1375 six-game total and an average of 229.17.
Irish two-hander
Christopher Sloan
(left) paced Squad 13 to leap into third place with 1268 including high games of 279 and 269.
Hansi Glasl
of Germany slipped two spots to fourth place with 1349.
PBA Hall of Famer
Brian Voss
(right) was second to Sloan in Squad 13 with 1344 including a pair of 266 games to overtake fifth place. Places six and seven belonged to
Jimmy Mortensen
, Denmark and Dutch
Ramon Hilferink
, who were next to Jones in Squad 12 with 1342 and 1340, respectively.
Stuart Williams
of England fell from third to eight place with 1329. The top eight qualifiers will receive two byes for Sunday's finals.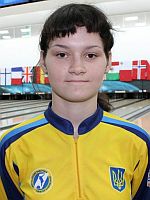 Daniel Fransson
(left) of Sweden, who finished second in the
2014 Brunswick Euro Challenge
at Dream-Bowl Palace, led Squad 11 Friday morning with 1326, good for ninth place.
Qualifiers 9-16 will receive a first-round bye. Holding 16th place is European champion
Daria Kovalova
(right) of Ukraine, who is the best of 17 women with 1315 including 48 pins handicap, a standard for women on the European Bowling Tour.
Michal Muzik
, Czech Republic, holds the 50th and last place to qualify directly for Sunday's finals with 1230 or an average of 205.
Qualifying resumes Saturday, July 26, with Squads 15-18 scheduled for 8 a.m., noon, 4 and 8 p.m. CEST and concludes with the Desperado Squad slated for 11.30 p.m.
The
5th Track Dream-Bowl Palace Open by Erdinger
is the 11th stop of the 2014 European Bowling Tour and the fourth out of six EBT "Gold" tournaments this season. The tournament will be held July 19-27 at 52-lane Dream-Bowl Palace in Unterföhring near Munich, Germany.
The DBP Track Open offers total prize fund of 70.000 Euro with 7.000 Euro going to the winner, 5.000 to the runner-up, and 3.000 and 2.000 Euro to the third and fourth place finisher, respectively. Low to cash is 64th place for 600 Euro.
The tournament features a 40-feet
lane conditioning pattern
with 24.885 ml volume oil total.
Qualifying (six-game series, unlimited re-entries) runs from Saturday July 19, through Saturday, July 26, with the last qualifying squad 18 scheduled for 8 p.m. CEST. Qualifying concludes with the one-game Desperado Squad slated for 11.30 p.m. Women receive 8 pins handicap each game throughout the entire tournament, a standard for women on the European Bowling Tour.
A total of 64 players will advance to the finals on Sunday, July 27 including the top 50 from the overall qualifying standings plus the top 6 from Squads 1-7, the top 4 from the Desperado Squad and the top four from a "High-Low" list (lowest and highest game added together; additional 10,-€ per squad). The top 8 qualifiers earn two byes, while qualifiers 9-16 receive a first-round bye.
Three four-game rounds, each starting from scratch, will trim the field to 36, 16 and then four players, who will carry forward their third-round pinfall total into the eliminator-format finals featuring three one-game rounds.
All four players bowl the opening game, with the lowest-scoring player after five games being eliminated. In the two rounds to follow, the same "low man out" format applies. The last man standing will be declared the champion.
The
2014 European Bowling Tour
features
20 tournaments in 14 countries
. In its 15th season, the EBT consists of
two Platinum
,
six Gold
,
three Silver
and
nine Satellite
tournaments. The total prize fund exceeds
one million Euro
.
The top 50 men and the top 50 women in each event receive ranking points. Those points will be tabulated throughout the season to determine the top 12 men and top 12 women, who will compete in the eighth EBT Masters July 6, 2015 at Bowling ChamartĂ­n in Madrid, Spain, immediately following the III Brunswick Madrid Challenge.
 
 
Related Articles

Dominic Barrett holds on to the lead in Munich after Qualifying Squad 10
Dominic Barrett takes over qualifying lead in Track Dream-Bowl Palace Open by Erdinger
Hansi Glasl leads Track Dream-Bowl Palace Open after first weekend
Christian Birlinger sets the pace as Track Dream-Bowl Palace Open gets underway in Germany
2014 European Bowling Tour - Schedule, Champions and Money-breakdown
2014 EBT Point Rankings by Bowlingdigital - Men and Women
 
 
Dream-Bowl Palace Open - Qualifying Standings after Squad 14/18

The top 50 qualifiers plus the top 6 from Squads 1-7, the top 4 from the Desperado Squad and the top four from a "High-Low" list will advance to the finals
| | | | | | | | | | | | | |
| --- | --- | --- | --- | --- | --- | --- | --- | --- | --- | --- | --- | --- |
| Pos | Player | Country | G1 | G2 | G3 | G4 | G5 | G6 | Pins | Avg. | Hc | Total |
| 1. | Dominic Barrett | England | 223 | 236 | 245 | 196 | 268 | 207 | 1375 | 229.17 | | 1375 |
| 2. | Tommy Jones | United States | 236 | 198 | 257 | 194 | 279 | 205 | 1369 | 228.17 | | 1369 |
| 3. | Christopher Sloan | Ireland | 235 | 279 | 218 | 192 | 269 | 175 | 1368 | 228.00 | | 1368 |
| 4. | Hansi Glasl | Germany | 199 | 277 | 184 | 230 | 212 | 247 | 1349 | 224.83 | | 1349 |
| 5. | Brian Voss | United States | 266 | 179 | 194 | 266 | 226 | 213 | 1344 | 224.00 | | 1344 |
| 6. | Jimmy Mortensen | Denmark | 220 | 190 | 204 | 235 | 237 | 256 | 1342 | 223.67 | | 1342 |
| 7. | Ramon Hilferink | Netherlands | 228 | 189 | 219 | 191 | 224 | 289 | 1340 | 223.33 | | 1340 |
| 8. | Stuart Williams | England | 170 | 239 | 247 | 212 | 196 | 265 | 1329 | 221.50 | | 1329 |
| 9. | Daniel Fransson | Sweden | 213 | 216 | 210 | 206 | 205 | 276 | 1326 | 221.00 | | 1326 |
| 10. | Osku Palermaa | Finland | 219 | 225 | 228 | 212 | 185 | 257 | 1326 | 221.00 | | 1326 |
| 11. | Thomas Larsen | Denmark | 189 | 253 | 195 | 217 | 257 | 214 | 1325 | 220.83 | | 1325 |
| 12. | AnĹľe Grabrijan | Slovenia | 235 | 206 | 268 | 192 | 189 | 233 | 1323 | 220.50 | | 1323 |
| 13. | Anders Lousdal | Denmark | 267 | 193 | 223 | 201 | 230 | 208 | 1322 | 220.33 | | 1322 |
| 14. | Carsten Warming Hansen | Denmark | 183 | 221 | 196 | 245 | 244 | 232 | 1321 | 220.17 | | 1321 |
| 15. | Kim Bolleby | Sweden | 189 | 213 | 206 | 207 | 225 | 279 | 1319 | 219.83 | | 1319 |
| 16. | Daria Kovalova | Ukraine | 256 | 214 | 192 | 223 | 180 | 202 | 1267 | 211.17 | 48 | 1315 |
| 17. | Johnni Adsbøl | Denmark | 213 | 222 | 192 | 224 | 234 | 225 | 1310 | 218.33 | | 1310 |
| 18. | Gary Newton | England | 167 | 242 | 239 | 198 | 258 | 200 | 1304 | 217.33 | | 1304 |
| 19. | Michael Grabovac | Germany | 208 | 238 | 197 | 237 | 209 | 213 | 1302 | 217.00 | | 1302 |
| 20. | Daniel Hellmich | Germany | 224 | 258 | 221 | 200 | 204 | 194 | 1301 | 216.83 | | 1301 |
| 21. | Alena Korobkova | Russia | 241 | 218 | 230 | 224 | 177 | 163 | 1253 | 208.83 | 48 | 1301 |
| 22. | John Wells | England | 197 | 244 | 239 | 214 | 201 | 201 | 1296 | 216.00 | | 1296 |
| 23. | Paul Moor | England | 202 | 229 | 245 | 215 | 226 | 178 | 1295 | 215.83 | | 1295 |
| 24. | Robert Andersson | Sweden | 195 | 192 | 236 | 245 | 190 | 236 | 1294 | 215.67 | | 1294 |
| 25. | Christian Birlinger | Germany | 244 | 195 | 215 | 188 | 223 | 227 | 1292 | 215.33 | | 1292 |
| 26. | Tobias Börding | Germany | 231 | 203 | 232 | 192 | 246 | 183 | 1287 | 214.50 | | 1287 |
| 27. | George Stefanidis | Greece | 212 | 216 | 204 | 197 | 254 | 203 | 1286 | 214.33 | | 1286 |
| 28. | Ed Smaglik | United States | 218 | 212 | 188 | 235 | 220 | 211 | 1284 | 214.00 | | 1284 |
| 29. | Birgit Pöppler | Germany | 245 | 176 | 180 | 217 | 181 | 224 | 1223 | 203.83 | 48 | 1271 |
| 30. | Joachim Karlsson | Sweden | 233 | 161 | 253 | 203 | 207 | 212 | 1269 | 211.50 | | 1269 |
| 31. | Alexander Pittesser | Austria | 191 | 226 | 214 | 228 | 186 | 223 | 1268 | 211.33 | | 1268 |
| 32. | Jouni Helminen | Finland | 201 | 177 | 216 | 214 | 213 | 246 | 1267 | 211.17 | | 1267 |
| 33. | Laura Beuthner | Germany | 184 | 191 | 207 | 239 | 201 | 196 | 1218 | 203.00 | 48 | 1266 |
| 34. | Eike Kabowski | Germany | 175 | 217 | 202 | 222 | 205 | 244 | 1265 | 210.83 | | 1265 |
| 35. | Christoph Schurian | Germany | 197 | 247 | 223 | 213 | 188 | 194 | 1262 | 210.33 | | 1262 |
| 36. | Sabrina Laub | Germany | 185 | 215 | 190 | 201 | 223 | 195 | 1209 | 201.50 | 48 | 1257 |
| 37. | Anton Elofsson | Sweden | 212 | 203 | 210 | 205 | 231 | 195 | 1256 | 209.33 | | 1256 |
| 38. | Daniel Vezis | Latvia | 176 | 221 | 214 | 198 | 221 | 224 | 1254 | 209.00 | | 1254 |
| 39. | Alvar Cardona Jr | Spain | 275 | 186 | 218 | 187 | 227 | 160 | 1253 | 208.83 | | 1253 |
| 40. | Thomas Gross | Austria | 211 | 267 | 208 | 227 | 165 | 173 | 1251 | 208.50 | | 1251 |
| 41. | Chris Klerk | United States | 211 | 207 | 203 | 201 | 214 | 212 | 1248 | 208.00 | | 1248 |
| 42. | Clemens Ulsamer Jr. | Germany | 172 | 202 | 176 | 209 | 233 | 254 | 1246 | 207.67 | | 1246 |
| 43. | Linas Sasnauskas | Lithuania | 209 | 180 | 224 | 211 | 207 | 213 | 1244 | 207.33 | | 1244 |
| 44. | Janusz Pietraszek | Poland | 170 | 215 | 211 | 214 | 176 | 254 | 1240 | 206.67 | | 1240 |
| 45. | Morgan Hadley | England | 213 | 229 | 144 | 207 | 223 | 224 | 1240 | 206.67 | | 1240 |
| 46. | Nikita Koshelev | Russia | 237 | 245 | 183 | 214 | 183 | 177 | 1239 | 206.50 | | 1239 |
| 47. | Maxime de Rooij | Germany | 204 | 254 | 182 | 181 | 190 | 178 | 1189 | 198.17 | 48 | 1237 |
| 48. | Elliot Crosby | England | 160 | 181 | 219 | 224 | 205 | 247 | 1236 | 206.00 | | 1236 |
| 49. | Joonas Jehkinen | Finland | 209 | 191 | 214 | 217 | 212 | 193 | 1236 | 206.00 | | 1236 |
| 50. | Michal Muzik | Czech Republic | 188 | 176 | 201 | 233 | 201 | 231 | 1230 | 205.00 | | 1230 |
| 51. | Bodo Konieczny | Germany | 201 | 254 | 205 | 172 | 197 | 198 | 1227 | 204.50 | | 1227 |
| 52. | Rene Filor | Germany | 185 | 204 | 227 | 192 | 215 | 203 | 1226 | 204.33 | | 1226 |
| 53. | Frederik Ohrgaard | Denmark | 205 | 211 | 191 | 209 | 216 | 194 | 1226 | 204.33 | | 1226 |
| 54. | Dennis Knijff | Netherlands | 245 | 177 | 204 | 192 | 193 | 211 | 1222 | 203.67 | | 1222 |
| 55. | Mika Oksanen | Finland | 164 | 230 | 202 | 158 | 255 | 212 | 1221 | 203.50 | | 1221 |
| 56. | Christopher Lam | England | 222 | 206 | 168 | 176 | 256 | 192 | 1220 | 203.33 | | 1220 |
| 57. | Chris Seidl | Germany | 166 | 159 | 225 | 193 | 253 | 223 | 1219 | 203.17 | | 1219 |
| 58. | Maximilian Hellmessen | Germany | 213 | 257 | 196 | 193 | 167 | 191 | 1217 | 202.83 | | 1217 |
| 59. | Alexander Johansson | Sweden | 233 | 148 | 182 | 230 | 211 | 212 | 1216 | 202.67 | | 1216 |
| 60. | Christer Petersson | Sweden | 201 | 223 | 224 | 213 | 171 | 182 | 1214 | 202.33 | | 1214 |
| 61. | Andrey Suslov | Russia | 212 | 175 | 186 | 223 | 205 | 212 | 1213 | 202.17 | | 1213 |
| 62. | Mika Koivuniemi | Finland | 185 | 181 | 256 | 193 | 193 | 205 | 1213 | 202.17 | | 1213 |
| 63. | Florian Winter | Germany | 152 | 207 | 191 | 219 | 227 | 215 | 1211 | 201.83 | | 1211 |
| 64. | Andreas Bösiger | Switzerland | 201 | 193 | 179 | 201 | 237 | 199 | 1210 | 201.67 | | 1210 |
| 65. | Cornelia Glasl | Germany | 187 | 202 | 192 | 164 | 190 | 222 | 1157 | 192.83 | 48 | 1205 |
| 66. | Oliver Blase | Germany | 178 | 192 | 227 | 201 | 215 | 191 | 1204 | 200.67 | | 1204 |
| 67. | Richard Teece | England | 170 | 221 | 186 | 235 | 202 | 190 | 1204 | 200.67 | | 1204 |
| 68. | Mats Maggi | Belgium | 202 | 192 | 135 | 226 | 215 | 231 | 1201 | 200.17 | | 1201 |
| 69. | Andreas Gripp | Germany | 199 | 152 | 202 | 206 | 192 | 249 | 1200 | 200.00 | | 1200 |
| 70. | Wesley Gorter | Netherlands | 170 | 247 | 160 | 227 | 196 | 195 | 1195 | 199.17 | | 1195 |
| 71. | Lukas Homola | Czech Republic | 137 | 205 | 264 | 257 | 158 | 174 | 1195 | 199.17 | | 1195 |
| 72. | Patrick Meka | Germany | 203 | 216 | 192 | 206 | 184 | 193 | 1194 | 199.00 | | 1194 |
| 73. | Andreas Wester | Sweden | 201 | 209 | 204 | 220 | 194 | 165 | 1193 | 198.83 | | 1193 |
| 74. | Nina Cremer | Germany | 200 | 201 | 179 | 158 | 149 | 256 | 1143 | 190.50 | 48 | 1191 |
| 75. | Manuel Mrosek | Germany | 202 | 192 | 212 | 193 | 198 | 193 | 1190 | 198.33 | | 1190 |
| 76. | Perttu Jussila | Finland | 204 | 211 | 171 | 232 | 181 | 188 | 1187 | 197.83 | | 1187 |
| 77. | Alexander Groll | Germany | 183 | 233 | 200 | 186 | 179 | 204 | 1185 | 197.50 | | 1185 |
| 78. | Bram Van Meerbergen | Belgium | 145 | 167 | 193 | 202 | 257 | 218 | 1182 | 197.00 | | 1182 |
| 79. | Alexander Medveditskov | Russia | 212 | 222 | 176 | 225 | 199 | 146 | 1180 | 196.67 | | 1180 |
| 80. | Krizinis Vaggelis | Greece | 206 | 190 | 222 | 213 | 171 | 177 | 1179 | 196.50 | | 1179 |
| 81. | Steve Gastmans | Belgium | 171 | 223 | 211 | 163 | 217 | 193 | 1178 | 196.33 | | 1178 |
| 82. | Niko Oksanen | Finland | 136 | 224 | 178 | 246 | 211 | 183 | 1178 | 196.33 | | 1178 |
| 83. | Daniel Dorfmeister | Germany | 176 | 168 | 181 | 214 | 225 | 213 | 1177 | 196.17 | | 1177 |
| 84. | Christian Cremer | Germany | 175 | 173 | 200 | 198 | 226 | 203 | 1175 | 195.83 | | 1175 |
| 85. | Lea Degenhardt | Germany | 180 | 203 | 202 | 200 | 186 | 156 | 1127 | 187.83 | 48 | 1175 |
| 86. | Mark Talpa | Czech Republic | 187 | 193 | 195 | 205 | 222 | 172 | 1174 | 195.67 | | 1174 |
| 87. | Dan Ostergaard-Poulsen | Denmark | 189 | 190 | 192 | 234 | 177 | 191 | 1173 | 195.50 | | 1173 |
| 88. | Lewis Brown | England | 214 | 180 | 200 | 180 | 192 | 206 | 1172 | 195.33 | | 1172 |
| 89. | Michal Marval | Czech Republic | 148 | 216 | 236 | 234 | 153 | 182 | 1169 | 194.83 | | 1169 |
| 90. | Wolfgang Kossin | Germany | 194 | 152 | 236 | 172 | 210 | 202 | 1166 | 194.33 | | 1166 |
| 91. | Lucien Houwer | Netherlands | 218 | 190 | 169 | 212 | 188 | 189 | 1166 | 194.33 | | 1166 |
| 92. | Dominik Hergenröder | Germany | 144 | 181 | 212 | 215 | 234 | 180 | 1166 | 194.33 | | 1166 |
| 93. | Stefan Klockgether | Germany | 185 | 178 | 207 | 213 | 204 | 178 | 1165 | 194.17 | | 1165 |
| 94. | Tim Friedrichs | Germany | 194 | 204 | 183 | 181 | 198 | 204 | 1164 | 194.00 | | 1164 |
| 95. | Vladimir Sverchkov | Russia | 198 | 174 | 203 | 223 | 160 | 205 | 1163 | 193.83 | | 1163 |
| 96. | Hans Snelting | Netherlands | 212 | 201 | 159 | 217 | 195 | 179 | 1163 | 193.83 | | 1163 |
| 97. | Tom Janetzki | Germany | 156 | 214 | 176 | 186 | 241 | 188 | 1161 | 193.50 | | 1161 |
| 98. | Nicole Blase | Germany | 203 | 165 | 210 | 184 | 171 | 179 | 1112 | 185.33 | 48 | 1160 |
| 99. | Gary Baker | England | 201 | 182 | 184 | 189 | 223 | 180 | 1159 | 193.17 | | 1159 |
| 100. | Kimmo Lehtonen | Finland | 212 | 229 | 149 | 158 | 172 | 237 | 1157 | 192.83 | | 1157 |
| 101. | Aidan Byrne | Ireland | 191 | 214 | 213 | 199 | 161 | 179 | 1157 | 192.83 | | 1157 |
| 102. | Andreas Pittesser | Austria | 203 | 214 | 210 | 207 | 150 | 169 | 1153 | 192.17 | | 1153 |
| 103. | Nino Stenko | Slovenia | 149 | 187 | 190 | 147 | 267 | 212 | 1152 | 192.00 | | 1152 |
| 104. | Peter Stevenson | England | 167 | 191 | 214 | 209 | 165 | 204 | 1150 | 191.67 | | 1150 |
| 105. | Christian Haas | Germany | 212 | 184 | 158 | 219 | 200 | 172 | 1145 | 190.83 | | 1145 |
| 106. | Ivana Padarova | Czech Republic | 197 | 172 | 236 | 178 | 177 | 137 | 1097 | 182.83 | 48 | 1145 |
| 107. | Andreas Hernitschek | Germany | 183 | 164 | 213 | 164 | 185 | 235 | 1144 | 190.67 | | 1144 |
| 108. | Dennis GrĂĽnheid | Germany | 176 | 187 | 184 | 190 | 228 | 179 | 1144 | 190.67 | | 1144 |
| 109. | Tamara Adler | Austria | 198 | 133 | 180 | 215 | 193 | 177 | 1096 | 182.67 | 48 | 1144 |
| 110. | Gianny Hendrickx | Belgium | 185 | 173 | 150 | 210 | 231 | 191 | 1140 | 190.00 | | 1140 |
| 111. | Viktor Dementiev | Ukraine | 226 | 218 | 159 | 156 | 189 | 191 | 1139 | 189.83 | | 1139 |
| 112. | Giancarlo Ragusa | Belgium | 177 | 168 | 210 | 232 | 193 | 158 | 1138 | 189.67 | | 1138 |
| 113. | Maxim Okorokov | Russia | 160 | 202 | 175 | 161 | 206 | 230 | 1134 | 189.00 | | 1134 |
| 114. | Dennis Bouwman | Netherlands | 176 | 159 | 212 | 184 | 173 | 226 | 1130 | 188.33 | | 1130 |
| 115. | Julius Emil Hopka | Norway | 168 | 162 | 217 | 153 | 214 | 216 | 1130 | 188.33 | | 1130 |
| 116. | Kai GĂĽnther | Germany | 156 | 181 | 159 | 239 | 194 | 197 | 1126 | 187.67 | | 1126 |
| 117. | Fabian Kloos | Germany | 211 | 224 | 181 | 156 | 171 | 182 | 1125 | 187.50 | | 1125 |
| 118. | Mark Jonasdofsky | Germany | 200 | 246 | 178 | 154 | 184 | 162 | 1124 | 187.33 | | 1124 |
| 119. | Daniele Guigon | France | 222 | 189 | 175 | 131 | 166 | 190 | 1073 | 178.83 | 48 | 1121 |
| 120. | Patrick Reichling | Germany | 236 | 183 | 194 | 149 | 158 | 200 | 1120 | 186.67 | | 1120 |
| 121. | André Michow | Germany | 169 | 205 | 185 | 212 | 193 | 156 | 1120 | 186.67 | | 1120 |
| 122. | Harald Laub | Germany | 157 | 192 | 188 | 197 | 183 | 200 | 1117 | 186.17 | | 1117 |
| 123. | Tomas Cheska | Netherlands | 204 | 174 | 203 | 159 | 151 | 175 | 1066 | 177.67 | 48 | 1114 |
| 124. | Michelle Ogriseck | Germany | 148 | 170 | 183 | 185 | 181 | 198 | 1065 | 177.50 | 48 | 1113 |
| 125. | Martin Köberl | Germany | 162 | 177 | 180 | 192 | 231 | 171 | 1113 | 185.50 | | 1113 |
| 126. | Fabian Franz | Germany | 184 | 224 | 177 | 176 | 181 | 168 | 1110 | 185.00 | | 1110 |
| 127. | Helmut Ulber | Germany | 205 | 190 | 173 | 165 | 195 | 181 | 1109 | 184.83 | | 1109 |
| 128. | Nicole Pietschner | Germany | 150 | 160 | 164 | 180 | 207 | 199 | 1060 | 176.67 | 48 | 1108 |
| 129. | GĂĽnter Janac | Austria | 177 | 187 | 189 | 159 | 158 | 236 | 1106 | 184.33 | | 1106 |
| 130. | Jaroslav Lorenc | Czech Republic | 174 | 200 | 198 | 164 | 153 | 217 | 1106 | 184.33 | | 1106 |
| 131. | Alessandro Silletti | Poland | 192 | 211 | 179 | 206 | 182 | 131 | 1101 | 183.50 | | 1101 |
| 132. | Jean Francois Petitperrin | France | 158 | 148 | 222 | 173 | 211 | 188 | 1100 | 183.33 | | 1100 |
| 133. | Tobias Vollstuber | Germany | 168 | 165 | 191 | 206 | 186 | 183 | 1099 | 183.17 | | 1099 |
| 134. | Damian Machura | Germany | 205 | 181 | 210 | 190 | 158 | 154 | 1098 | 183.00 | | 1098 |
| 135. | Marco Pilecky | Austria | 156 | 153 | 171 | 257 | 190 | 169 | 1096 | 182.67 | | 1096 |
| 136. | Frank McClellan | United States | 178 | 181 | 192 | 195 | 160 | 189 | 1095 | 182.50 | | 1095 |
| 137. | Karlheinz Hofbauer | Germany | 155 | 212 | 174 | 174 | 195 | 184 | 1094 | 182.33 | | 1094 |
| 138. | Angela Laub | Germany | 187 | 181 | 183 | 190 | 147 | 155 | 1043 | 173.83 | 48 | 1091 |
| 139. | Marco Pietschner | Germany | 193 | 198 | 172 | 173 | 170 | 181 | 1087 | 181.17 | | 1087 |
| 140. | Peter van den Oever | Netherlands | 164 | 194 | 170 | 192 | 213 | 153 | 1086 | 181.00 | | 1086 |
| 141. | Christopher Ehlert | Germany | 174 | 166 | 227 | 185 | 179 | 153 | 1084 | 180.67 | | 1084 |
| 142. | Tobias Gäbler | Germany | 191 | 187 | 202 | 151 | 191 | 159 | 1081 | 180.17 | | 1081 |
| 143. | Georg Pittesser | Austria | 156 | 164 | 192 | 210 | 197 | 161 | 1080 | 180.00 | | 1080 |
| 144. | Steven Atkinson | England | 160 | 184 | 146 | 188 | 224 | 176 | 1078 | 179.67 | | 1078 |
| 145. | Dennis LĂĽthje | Germany | 201 | 152 | 181 | 163 | 212 | 169 | 1078 | 179.67 | | 1078 |
| 146. | Karl Witek | Austria | 180 | 177 | 150 | 189 | 198 | 178 | 1072 | 178.67 | | 1072 |
| 147. | Rene Kaiser | Germany | 131 | 205 | 180 | 189 | 177 | 184 | 1066 | 177.67 | | 1066 |
| 148. | Sergi Montaña | Spain | 201 | 154 | 161 | 192 | 186 | 164 | 1058 | 176.33 | | 1058 |
| 149. | Torsten Schiemenz | Germany | 163 | 187 | 215 | 157 | 179 | 155 | 1056 | 176.00 | | 1056 |
| 150. | David Dudek | Austria | 180 | 188 | 152 | 189 | 181 | 163 | 1053 | 175.50 | | 1053 |
| 151. | Martin Wilfinger | Austria | 211 | 135 | 173 | 187 | 160 | 186 | 1052 | 175.33 | | 1052 |
| 152. | Aurelien Truchot | France | 180 | 192 | 155 | 201 | 166 | 155 | 1049 | 174.83 | | 1049 |
| 153. | Reiner Köpf | Germany | 191 | 213 | 120 | 173 | 178 | 171 | 1046 | 174.33 | | 1046 |
| 154. | Werner Knöbl | Germany | 173 | 185 | 138 | 193 | 148 | 205 | 1042 | 173.67 | | 1042 |
| 155. | Sean Jacobs | Germany | 170 | 160 | 193 | 146 | 161 | 202 | 1032 | 172.00 | | 1032 |
| 156. | Bruno Schmitt | France | 199 | 170 | 151 | 184 | 150 | 164 | 1018 | 169.67 | | 1018 |
| 157. | Maik MĂĽller | Germany | 176 | 168 | 183 | 167 | 153 | 166 | 1013 | 168.83 | | 1013 |
| 158. | Alexander Tarsoly | Hungary | 170 | 188 | 205 | 173 | 137 | 139 | 1012 | 168.67 | | 1012 |
| 159. | Matthias Kabel | Germany | 145 | 148 | 181 | 194 | 159 | 162 | 989 | 164.83 | | 989 |
| 160. | Christoph Gerzoskovitz | Germany | 147 | 187 | 149 | 181 | 161 | 155 | 980 | 163.33 | | 980 |
| 161. | Richard Rec | Germany | 167 | 149 | 165 | 173 | 157 | 166 | 977 | 162.83 | | 977 |
| 162. | Ladislav Homola | Czech Republic | 135 | 152 | 179 | 179 | 172 | 159 | 976 | 162.67 | | 976 |
| 163. | Roman Valentin | Austria | 157 | 169 | 169 | 149 | 159 | 164 | 967 | 161.17 | | 967 |
| 164. | Thorsten Brunke | Germany | 154 | 166 | 163 | 160 | 151 | 163 | 957 | 159.50 | | 957 |
| 165. | Max Reichart | Germany | 179 | 164 | 165 | 134 | 148 | 163 | 953 | 158.83 | | 953 |
| 166. | Evgeny Shlom | Russia | 143 | 169 | 135 | 145 | 157 | 199 | 948 | 158.00 | | 948 |
| 167. | Yoann Rochet | France | 156 | 165 | 160 | 157 | 183 | 127 | 948 | 158.00 | | 948 |
| 168. | Guido Kämmerer | Germany | 177 | 173 | 177 | 142 | 139 | 136 | 944 | 157.33 | | 944 |
| 169. | Vladimir Churilov | Russia | 151 | 173 | 109 | 158 | 139 | 213 | 943 | 157.17 | | 943 |
| 170. | Markus Buda | Germany | 161 | 125 | 138 | 193 | 150 | 142 | 909 | 151.50 | | 909 |
| 171. | Rob Gorter | Netherlands | 180 | 127 | 153 | 148 | 151 | 147 | 906 | 151.00 | | 906 |