Live Coverage from the 2010 Brunswick Euro Challenge
03/05/10
Coming This Week
Le Plaza Bowling in Saint Maximin, France (March 5-14, 2010)
The
Brunswick Euro Challenge
, which will be held from March 5-14, 2010 at 28-laner Le Plaza Bowling in Saint Maximin near Paris, France, is the fifth event of the 2010 European Bowling Tour and one of the Tour's "Gold" tournaments.
Since the Ankara Open has been cancelled, the 2010 EBT Tour features 2 EBT
Platinum
tournament (formerly Premier), 6 EBT
Gold
tournaments (formerly Major), 8 EBT
Silver
tournaments (formerly Challenger) and 4 EBT
Satellite
tournaments (new category).
The stepladder finals will be broadcasted live on
Eurosport 2 Sunday, March 14 from 5:30 to 6:30 p.m. CET
. Additional to the live broadcast, Eurosport 2 will air at least two more re-broadcasts in the weeks following the live coverage (exact dates to be determined). Eurosport Asia-Pacific will also run the BEC 2010 final several times.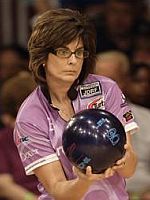 As of today
471 players from 37 countries
- Austria, Belgium, Canada, Colombia, Czech Republic, Denmark, England, Spain, Finland, France, Germany, Greece, Hungary, Iran, Ireland, Italy, Jordan, Japan, Kazakhstan, Saudi Arabia, Latvia, Morocco, Malaysia, Malta, Netherlands, Northern Ireland, Norway, Portugal, Russia, Singapore, Slovenia, Serbia, Switzerland, Sweden, Ukraine, United States and Venezuela - have registered for the event.
The list of participants will be spearheaded by 32-time PBA champion and 2-time PBA Player of the Year,
Parker Bohn III
(pictured left) and 20-time PWBA champion and PWBA Player of the Year,
Carolyn Dorin-Ballard
(right).
For the third consecutive year, the 2010 Brunswick Euro Challenge sponsored by Brunswick Bowling will be organized by Brunswick distributor
Valcke Bowling
.
In addition to sponsoring the event, Brunswick will be conducting seminar and training sessions for bowlers, coaches, center mechanics, center managers and proprietors. Click on the link to view the complete
Seminar Schedule
(pdf file).
Le Plaza Bowling in Saint Maximin
is a 28-lane Brunswick-equipped facility located 40 kilometers north of Paris. The bowling center features Brunswick lanes, scoring, pinsetters, pins and lane maintenance. This location was chosen in 2008 (previous BECs were held in Thessaloniki, Greece) to attract more bowlers from Western European.
Saint Maximin's close proximity to Charles de Gaulle airport provides excellent connections to main European cities and major American and Asian airports. Many low-fare airlines serve this airport.
The 2008 BEC drew 405 players, 311 men and EBT record 94 women, from 36 countries. The 2009 edition saw 314 players, 239 men and 75 women, from 28 countries. The 2010 edition will become the biggest BEC since the tournament's inaugural event in the year 2004.
2-time PBA champion
Mike Fagan
(pictured left), United States, is the defending champion. The 29-year-old righthander will be targeting to make his third consecutive BEC title match. Last year, Fagan defeated  PBA Hall of Famer
Brian Voss
, 236-225, to win his second EBT title and 16.000 Euro. In 2008, Fagan, seeded first, fell to
Peter Ljung
, Sweden, 220-187, to settle for the 9.000 Euro runner-up check.
Mai Ginge Jensen
(right), Denmark, finished third last year to win the women ranking.
 
 
 
2009 BEC Title Match


 
2008 BEC Title Match


The 2010 Brunswick Euro Challenge will be contested on a 39 feet long
sport pattern
of medium difficulty (MS Excel file).
Players will compete for total prize money of
90,000 Euro (currently about US$123,250)
, and includes special prizes "B Bowlers" and Women.

Once again
Bowlingdigital
will cover the event live from Le Plaza Bowling in Saint Maximin with results and updates after each round plus our much-anticipated high definition videos produced by
Flavio Cuva
and high quality photos by
Beat Grauwiler
(l-r).
Please scroll down this page for more information about the tournament format, schedule and prize money.
Click here to review Bowlingdigital's
Live Coverage
from the 2009 Brunswick Euro Challenge or click here to go straight to the
video section
. You will find more videos
here
.
 
2010 Brunswick Euro Challenge - Tournament Format

Qualifying
6 games (entries and re-entries)

Desperado Squad
1 game

A total of 64 players will qualify for the finals.
The top 16 players will receive one bye into and will seeded 1-16 in Round 2.

The following 48 players will qualify for Round 1:
Players positioned 17-52 in the qualifying
the top 6 from a separate standing for the squads conducted March 7-9, who are not among the top 52
the top six from the Desperado Squad.
Round 1
48 players will play six games starting from scratch.
The top 16 will qualify for Round 2 and will be seeded 17-32
The players, who are eliminated, will be ranked 33-64 according to their positions in Round 1.

Match Play
Best-of-three games. The highest seeded player vs. the lowest seeded player, the second highest seeded player vs. the second lowest seeded player etc.

Round 2
16 matches. Winners advance, losers finish 17-32 based on match play seeding.

Round 3
8 matches. Winners advance, losers finish 9-16 based on match play seeding.

Round 4
4 matches. Winners advance, losers finish 5-8 based on match play seeding.

Stepladder Finals (one-game matches)
Match 1: #No. 4 seed vs. No. 3 seed
Match 2: Winner of Match 1 vs. No. 2 seed
Title Match: Winner of Match 2 vs. No. 1 seed.
 
 
2010 Brunswick Euro Challenge - Schedule
 
| | | | | | | |
| --- | --- | --- | --- | --- | --- | --- |
| Squad | Day | Date | Time | Spots | Entry fee | Re-entry fee |
| Squad 01 | Friday | 05.03.2010 | 20.30 | 56 | 110 | |
| Squad 02 | Saturday | 06.03.2011 | 13.00 | 56 | 110 | 90 |
| Squad 03 | Saturday | 06.03.2011 | 17.00 | 56 | 130 | 100 |
| Squad 03b | Sunday | 07.03.2010 | 09.00 | 56 | 130 | 100 |
| Squad 04 | Sunday | 07.03.2010 | 13.00 | 56 | 130 | 100 |
| Squad 05 | Sunday | 07.03.2010 | 17.00 | 56 | 130 | 100 |
| Squad 06 | Monday | 08.03.2010 | 20.30 | 56 | 110 | 90 |
| Squad 07 | Tuesday | 09.03.2010 | 20.30 | 56 | 110 | 90 |
| Squad 08 | Wednesday | 10.03.2010 | 17.00 | 56 | 130 | 100 |
| Squad 09 | Wednesday | 10.03.2010 | 21.00 | 56 | 130 | 100 |
| Squad 10 | Thursday | 11.03.2010 | 08.00 | 56 | 130 | 100 |
| Squad 11 | Thursday | 11.03.2010 | 12.00 | 56 | 130 | 100 |
| Squad 12 | Thursday | 11.03.2010 | 16.00 | 56 | 170 | 135 |
| Squad 13 | Thursday | 11.03.2010 | 20.00 | 56 | 170 | 135 |
| Squad 14 | Friday | 12.03.2010 | 00.00 | 56 | 130 | 100 |
| Squad 15 | Friday | 12.03.2010 | 08.00 | 56 | 170 | 135 |
| Squad 16 | Friday | 12.03.2010 | 12.00 | 56 | 170 | 135 |
| Squad 17 | Friday | 12.03.2010 | 16.00 | 56 | 170 | 135 |
| Squad 18 | Friday | 12.03.2010 | 20.00 | 56 | 170 | 135 |
| Squad 19 | Saturday | 13.03.2010 | 00.00 | 56 | 170 | 135 |
| Squad 20 | Saturday | 13.03.2010 | 08.00 | 56 | 170 | 135 |
| Squad 21 | Saturday | 13.03.2010 | 12.00 | 56 | 170 | 135 |
| Squad 22 | Saturday | 13.03.2010 | 16.00 | 56 | 170 | 135 |
| Squad 23 | Saturday | 13.03.2010 | 20.00 | 56 | 170 | 135 |
| Desperado Squad | Saturday | 13.03.2010 | 23.00 | - | 50 | |
 
 
2010 Brunswick Euro Challenge - Prize Fund
 
| | | | |
| --- | --- | --- | --- |
| Position | Singles Mixed | Women extra | B Bowlers |
| 1st Place | 13.000 Euro | 1.300 Euro | 850 Euro |
| 2nd Place | 7.500 Euro | 1.100 Euro | 650 Euro |
| 3rd Place | 4.750 Euro | 840 Euro | 450 Euro |
| 4th Place | 3.500 Euro | 630 Euro | 350 Euro |
| 5th Place | 2.000 Euro | 430 Euro | 300 Euro |
| 6th Place | 1.900 Euro | | 250 Euro |
| 7th Place | 1.800 Euro | | |
| 8th Place | 1.700 Euro | | |
| 9th Place | 1.600 Euro | | |
| 10th Place | 1.500 Euro | | |
| 11th Place | 1.000 Euro | | |
| 12th Place | 1.000 Euro | | |
| 13th Place | 1.000 Euro | | |
| 14th Place | 1.000 Euro | | |
| 15th Place | 1.000 Euro | | |
| 16th Place | 1.000 Euro | | |
| 17th Place | 950 Euro | | |
| 18th Place | 950 Euro | | |
| 19th Place | 950 Euro | | |
| 20th Place | 950 Euro | | |
| 21st Place | 950 Euro | | |
| 22nd Place | 950 Euro | | |
| 23rd Place | 950 Euro | | |
| 24th Place | 950 Euro | | |
| 25th Place | 950 Euro | | |
| 26th Place | 950 Euro | | |
| 27th Place | 950 Euro | | |
| 28th Place | 950 Euro | | |
| 29th Place | 950 Euro | | |
| 30th Place | 950 Euro | | |
| 31st Place | 950 Euro | | |
| 32nd Place | 950 Euro | | |
| 33rd Place | 700 Euro | | |
| 34th Place | 700 Euro | | |
| 35th Place | 700 Euro | | |
| 36th Place | 700 Euro | | |
| 37th Place | 700 Euro | | |
| 38th Place | 700 Euro | | |
| 39th Place | 700 Euro | | |
| 40th Place | 700 Euro | | |
| 41st Place | 700 Euro | | |
| 42nd Place | 700 Euro | | |
| 43rd Place | 700 Euro | | |
| 44th Place | 700 Euro | | |
| 45th Place | 700 Euro | | |
| 46th Place | 700 Euro | | |
| 47th Place | 700 Euro | | |
| 48th Place | 700 Euro | | |
| 49th Place | 700 Euro | | |
| 50th Place | 700 Euro | | |
| 51st Place | 700 Euro | | |
| 52nd Place | 700 Euro | | |
| 53rd Place | 700 Euro | | |
| 54th Place | 700 Euro | | |
| 55th Place | 700 Euro | | |
| 56th Place | 700 Euro | | |
| 57th Place | 700 Euro | | |
| 58th Place | 700 Euro | | |
| 59th Place | 700 Euro | | |
| 60th Place | 700 Euro | | |
| 61st Place | 700 Euro | | |
| 62nd Place | 700 Euro | | |
| 63rd Place | 700 Euro | | |
| 64th Place | 700 Euro | | |
| Total Prize Money | 82.850 Euro | 4.300 Euro | 2.850 Euro |