Team USA'S Dorin-Ballard, Szczerbinski ready to tackle World Cup
10/12/10
United States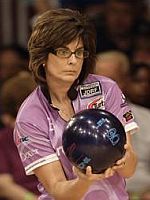 With more than 20 professional titles, nine international medals and dozens of other tournament victories, there isn't much Team USA member
Carolyn Dorin-Ballard
(pictured left) hasn't accomplished on the bowling lanes.
Starting Monday, the United States Bowling Congress Hall of Famer will have a chance to pad her resume even more when she competes in the 46th QubicaAMF World Cup in Toulon, France.
The World Cup is the largest international bowling tournament in the world in terms of the number of countries competing, which is expected to total a record 95 this year. The event begins with qualifying on Oct. 18 and concludes Oct. 23.
John Szczerbinski
of North Tonawanda, N.Y., will represent Team USA in the men's division.
"It's pretty awesome, and I feel pretty honored that our Team USA coaches asked me to bowl," Dorin-Ballard said. "I've never had the opportunity to bowl because for a long time, professional bowlers weren't allowed. This may be my one and only chance, and I'm going to try everything possible to represent the USA to the best of my ability.
"I've really been working on my game, practicing at the International Training and Research Center and working on changing my grip and tilt. It's really starting to come around."
In order to hoist the World Cup at the end of the event, Dorin-Ballard knows it will be a tough battle. She will take on multiple world and zone champions, including Australia's Ann Maree Putney, Sweden's Helen Johnsson, Korea's Gye Min-Young, Canada's Felicia Wong and the Dominican Republic's Aumi Guerra.
"I know I am going to have to bowl really well to have a chance because the international competition has gotten so strong over the years," Dorin-Ballard said. "I know the scores are probably going to be pretty high, so I'm definitely going to have to be on my game. Hopefully, I can make the shots I need to make to win the Cup."
On the men's side, Szczerbinski, a recent graduate of Wichita State University who led the Shockers to three consecutive national championships, also will face a tough field.
The two-time Team USA member will take on international stars like Canada's Michael Schmidt, Australia's Paul Trotter, the Philippines Biboy Rivera, Germany's Achim Grabowski, Israel's Or Aviram and Korea's Park Jong-Woo.
"I'm going to go over and try and perform the best I can," Szczerbinski (pictured right) said. "I know I have the support of the 11 other guys on Team USA, my coaches and my family. I'm going to try and play well and bring home the World Cup for the United States."
The World Cup begins with official practice and opening ceremonies Sunday. All participants will bowl 20 games of qualifying over four days starting Monday with the top 24 men and top 24 women advancing to eight more games Oct. 22.
The top eight men and top eight women then advance to the Round of 8 the evening of Oct. 22 when the field will be paired down to the top three men and top three women for the semifinals and finals.
USBC will provide live streaming coverage of the World Cup on BOWL.com. The schedule is as follows (all times Eastern, subject to change):
Oct. 18, TBD, QubicaAMF World Cup qualifying
Oct. 19, TBD, QubicaAMF World Cup qualifying
Oct. 20, TBD, QubicaAMF World Cup qualifying
Oct. 21, TBD, QubicaAMF World Cup qualifying
Oct. 22, 2 a.m., QubicaAMF World Cup women's Round of 24
Oct. 22, 5:30 a.m., QubicaAMF World Cup men's Round of 24
Oct. 22, 9 a.m., QubicaAMF World Cup men and women Round of 8
Oct. 23, 4 a.m., QubicaAMF World Cup women's semifinals and final
Oct. 23, 8 a.m., QubicaAMF World Cup men's semifinals and final
 
Related Articles
Preview
of the 46th QubicaAMF Bowling World Cup
Hulst; Sanders
win NBF Bowling Tour Finals 2010 to represent Netherlands in the World Cup
Rivera, Posadas
earn Philippines' Bowling World Cup spots
Ancarani, Manico
cruise to victory in Swiss World Cup Qualifier
Mizrahi, Aviram
in the 46th QubicaAMF Bowling World Cup
Zavjalova, VÄ"zis
to represent Latvia at QubicaAMF Bowling World Cup in France
Gablek, Kubalek
win Austrian Bowling World Cup Qualifier
Over 90 countries
to participate in the 46th QubicaAMF Bowling World Cup
46th QubicaAMF Bowling World Cup moves from Zagreb, Croatia, to
Toulon, France
Marcelo Suartz
wins XIX Copa AMF Brazil to represent Brazil at 46th QubicaAMF Bowling World Cup
MTV Party
at Bowling 300 Zagreb, host of the 46th QubicaAMF Bowling World Cup
46th QubicaAMF Bowling World Cup to be held in October in
Zagreb, Croatia