Colombia's Clara Guerrero takes Singles gold at PABCON Women's Championships
09/14/14
2014 PABCON Women's Championships
Two-time World Champion kicks off the PABCON Women's Championships in Cali, Colombia, with record-setting performance; wins her second career gold medal in PABCON Women's Championships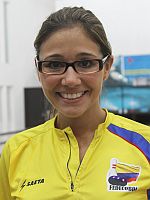 Colombia's
Clara Juliana Guerrero
(pictured left) broke the Pan American Bowling Confederation Women's Championships Singles record en route to the gold medal Saturday in her home country.
Guerrero blasted a six-game total of 1,498 (249.67 average) to earn her second career gold medal in the PABCON Women's Championships. Team USA's
Kelly Kulick
earned the silver and teammate
Liz Johnson
took the bronze at the Cali Bowling Coliseum.
After starting with games of 233, 290 and 223, Guerrero closed out her singles event strong with 248, 259 and 245 to set the score to beat on the first squad.
It was the first individual PABCON gold medal in Guerrero's career. She won the doubles gold medal in 2001 with Paola Gomez and has earned seven silver medals and two bronze medals over the years.
"It feels incredible to win the gold medal in singles with my parents, my brother and the people who always support me behind me," said Guerrero, who beat the previous record of 1,482 set by Team USA's Liz Johnson in 2008. "The level of this tournament is quite high, so I'm very pleased and quite excited."
The United States earned the second through sixth positions in the standings with Kulick (left) leading the way with a 1,387 second-place finish. Johnson (right) totaled 1,369 to finish third.
Missy Parkin
(left) finished in fourth place with 1,340,
Shannon Pluhowsky
was fifth with 1,340 and
Danielle McEwan
finished in a tie for sixth place with 1,314. The sixth U.S. bowler,
Shannon O'Keefe
, was 14th with 1,262.
Aseret Zetter
(right) of Mexico started her six-game block by rolling the first 300 game of the Championships. Zetter managed only one game over 200 in the next five games to finish in 15th place with 1261.
 
 
 
 
Four countries will qualify for the
2015 Pan American Games
this week as part of the PABCON Women's Championships. The combined all-events total of the top two bowlers from each non-qualified country will determine the top four that advance.
Eight countries have already qualified for the Pan American Games, which will feature 14 countries. Argentina, Brazil, Canada, Chile, Colombia, Costa Rica, Mexico and Venezuela have already secured spots.
There are seven countries competing in the PABCON Women's Championships that have yet to qualify and four will earn spots. Those countries are Aruba, the Bahamas, the United States, Guatemala, Panama, Puerto Rico and the Dominican Republic.
With Kulick and Johnson's strong start, it put Team USA atop the leaderboard in the race to qualify for the Pan American Games.

Competition moves to the Doubles event, which will be contested starting at 11 a.m. Eastern on Sunday. All rounds of the PABCON Women's Championships are being broadcast live on BOWL.com's BowlTV.
 
Related Articles
Team USA has
important goal
at PABCON Women's Championships
Team USA roster
for 2014 PABCON Women's Championships announced
 
2014 PABCON Women's Championships - Singles Results (Final Standings)
| | | | | | | | | | | | | |
| --- | --- | --- | --- | --- | --- | --- | --- | --- | --- | --- | --- | --- |
| Pos | Players | Country | G1 | G2 | G3 | G1-3 | G4 | G5 | G6 | G4-6 | Total | Ave. |
| 1. | Clara J. Guerrero | Colombia | 233 | 290 | 223 | 746 | 248 | 259 | 245 | 752 | 1498 | 249.67 |
| 2. | Kelly Kulick | United States | 201 | 244 | 269 | 714 | 226 | 257 | 190 | 673 | 1387 | 231.17 |
| 3. | Liz Johnson | United States | 204 | 237 | 224 | 665 | 216 | 265 | 223 | 704 | 1369 | 228.17 |
| 4. | Missy Parkin | United States | 182 | 238 | 224 | 644 | 253 | 213 | 230 | 696 | 1340 | 223.33 |
| 5. | Shannon Pluhowsky | United States | 222 | 221 | 235 | 678 | 268 | 204 | 164 | 636 | 1314 | 219.00 |
| 6. | Danielle McEwan | United States | 247 | 237 | 213 | 697 | 225 | 215 | 177 | 617 | 1314 | 219.00 |
| 7. | Karen Marcano | Venezuela | 236 | 192 | 203 | 631 | 210 | 227 | 241 | 678 | 1309 | 218.17 |
| 8. | Lilia Robles | Mexico | 180 | 232 | 192 | 604 | 235 | 233 | 234 | 702 | 1306 | 217.67 |
| 9. | Thashaina Seraus | Aruba | 232 | 175 | 246 | 653 | 203 | 268 | 180 | 651 | 1304 | 217.33 |
| 10. | Sandra Gongora | Mexico | 185 | 201 | 200 | 586 | 277 | 176 | 264 | 717 | 1303 | 217.17 |
| 11. | Aumi Guerra | Dominican Republic | 221 | 184 | 178 | 583 | 234 | 245 | 216 | 695 | 1278 | 213.00 |
| 12. | Mariana Ayala | Puerto Rico | 167 | 160 | 231 | 558 | 234 | 255 | 227 | 716 | 1274 | 212.33 |
| 13. | Tilcia Lancini | Panama | 182 | 267 | 195 | 644 | 222 | 213 | 188 | 623 | 1267 | 211.17 |
| 14. | Shannon O'Keefe | United States | 234 | 226 | 197 | 657 | 185 | 189 | 231 | 605 | 1262 | 210.33 |
| 15. | Aseret Zetter | Mexico | 300 | 186 | 181 | 667 | 170 | 225 | 199 | 594 | 1261 | 210.17 |
| 16. | Maria J. Rodriguez | Colombia | 179 | 182 | 210 | 571 | 257 | 213 | 204 | 674 | 1245 | 207.50 |
| 17. | Miranda Panas | Canada | 244 | 149 | 210 | 603 | 198 | 234 | 210 | 642 | 1245 | 207.50 |
| 18. | Nishka Cardona | Puerto Rico | 218 | 144 | 189 | 551 | 213 | 259 | 212 | 684 | 1235 | 205.83 |
| 19. | Lynne Gauthier | Canada | 214 | 189 | 234 | 637 | 193 | 219 | 181 | 593 | 1230 | 205.00 |
| 20. | Kamilah Dammers | Aruba | 175 | 192 | 200 | 567 | 203 | 237 | 221 | 661 | 1228 | 204.67 |
| 21. | Esther F. Alvarez | Venezuela | 195 | 201 | 210 | 606 | 177 | 235 | 201 | 613 | 1219 | 203.17 |
| 22. | Patricia De Faria | Venezuela | 188 | 174 | 212 | 574 | 206 | 226 | 211 | 643 | 1217 | 202.83 |
| 23. | Danielle Lemoine | Canada | 185 | 178 | 194 | 557 | 210 | 223 | 225 | 658 | 1215 | 202.50 |
| 24. | Kristie Lopez | Puerto Rico | 149 | 233 | 209 | 591 | 184 | 203 | 231 | 618 | 1209 | 201.50 |
| 25. | Anggie Ramirez | Colombia | 219 | 166 | 234 | 619 | 170 | 190 | 220 | 580 | 1199 | 199.83 |
| 26. | Ingellimar Contreras | Venezuela | 224 | 206 | 179 | 609 | 212 | 180 | 195 | 587 | 1196 | 199.33 |
| 27. | Valerie Calberry | Canada | 200 | 203 | 195 | 598 | 216 | 230 | 147 | 593 | 1191 | 198.50 |
| 28. | Ashanti Sanchez | Mexico | 160 | 170 | 220 | 550 | 217 | 221 | 202 | 640 | 1190 | 198.33 |
| 29. | Rocio Restrepo | Colombia | 195 | 193 | 222 | 610 | 193 | 201 | 186 | 580 | 1190 | 198.33 |
| 30. | Pamela Monzon | Guatemala | 189 | 180 | 222 | 591 | 178 | 191 | 229 | 598 | 1189 | 198.17 |
| 31. | Viviana Delgado | Costa Rica | 182 | 201 | 205 | 588 | 182 | 191 | 224 | 597 | 1185 | 197.50 |
| 32. | Paola Gomez | Colombia | 162 | 225 | 183 | 570 | 222 | 204 | 189 | 615 | 1185 | 197.50 |
| 33. | Isabelle Rioux | Canada | 188 | 218 | 199 | 605 | 192 | 195 | 186 | 573 | 1178 | 196.33 |
| 34. | Edissa Andrade | Panama | 163 | 200 | 169 | 532 | 212 | 223 | 196 | 631 | 1163 | 193.83 |
| 35. | Iliana Lomeli | Mexico | 188 | 186 | 192 | 566 | 211 | 183 | 198 | 592 | 1158 | 193.00 |
| 36. | Eny Diaz | Venezuela | 187 | 167 | 169 | 523 | 217 | 188 | 213 | 618 | 1141 | 190.17 |
| 37. | Laura Barrios | Guatemala | 176 | 202 | 156 | 534 | 195 | 195 | 211 | 601 | 1135 | 189.17 |
| 38. | Jessica Atan | Costa Rica | 191 | 160 | 206 | 557 | 161 | 201 | 214 | 576 | 1133 | 188.83 |
| 39. | Alicia Marcano | Venezuela | 237 | 180 | 169 | 586 | 186 | 170 | 184 | 540 | 1126 | 187.67 |
| 40. | Grace Rodriguez | Puerto Rico | 174 | 157 | 214 | 545 | 190 | 238 | 153 | 581 | 1126 | 187.67 |
| 41. | Alexandra Mosquera | Colombia | 178 | 186 | 221 | 585 | 166 | 182 | 190 | 538 | 1123 | 187.17 |
| 42. | Sayuri Yamada | Mexico | 168 | 153 | 188 | 509 | 211 | 216 | 183 | 610 | 1119 | 186.50 |
| 43. | Samantha Wong How | Canada | 236 | 169 | 191 | 596 | 189 | 169 | 147 | 505 | 1101 | 183.50 |
| 44. | Jeadine Luidens | Aruba | 174 | 170 | 179 | 523 | 179 | 224 | 168 | 571 | 1094 | 182.33 |
| 45. | Cristina Rodriguez | Puerto Rico | 146 | 201 | 153 | 500 | 209 | 193 | 189 | 591 | 1091 | 181.83 |
| 46. | Ana L. Bola√Īos | Guatemala | 182 | 182 | 179 | 543 | 177 | 182 | 189 | 548 | 1091 | 181.83 |
| 47. | Tara Johnson | Bahamas | 143 | 162 | 169 | 474 | 210 | 171 | 178 | 559 | 1033 | 172.17 |
| 48. | Ximena Soto | Guatemala | 174 | 192 | 150 | 516 | 161 | 170 | 173 | 504 | 1020 | 170.00 |
| 49. | Virginia Bello | Dominican Republic | 178 | 200 | 163 | 541 | 190 | 134 | 148 | 472 | 1013 | 168.83 |
| 50. | Orna Levy | Panama | 197 | 182 | 167 | 546 | 129 | 159 | 178 | 466 | 1012 | 168.67 |
| 51. | Sofia Granda | Guatemala | 183 | 153 | 161 | 497 | 168 | 165 | 176 | 509 | 1006 | 167.67 |
| 52. | Jonice Lockhart | Bahamas | 171 | 178 | 165 | 514 | 159 | 161 | 159 | 479 | 993 | 165.50 |
| 53. | Lizzy Abood | Panama | 175 | 175 | 136 | 486 | 176 | 149 | 178 | 503 | 989 | 164.83 |
| 54. | Marina McClain | Bahamas | 160 | 181 | 169 | 510 | 143 | 156 | 154 | 453 | 963 | 160.50 |
| 55. | Sylvia Villalobos | Costa Rica | 135 | 170 | 140 | 445 | 151 | 161 | 187 | 499 | 944 | 157.33 |
| 56. | Ana P. Morales | Guatemala | 131 | 174 | 182 | 487 | 156 | 171 | 129 | 456 | 943 | 157.17 |
| 57. | Valerie Bermudez | Puerto Rico | 135 | 151 | 167 | 453 | 180 | 163 | 137 | 480 | 933 | 155.50 |