GEICO WSOB VII sets entry record, ties international representation record
12/04/15
2015 PBA Spare Shots #48
Bonuses await early arrivals for Rolltech PBA World Championship finals; New "Tom's Take" Facebook feature; Entries open for PBA Tournament of Champions, Players Championship; Derek Williams wins in Beaumont
The late entry of
Jean Perez
(pictured right), a long-time member of Puerto Rico's national team, combined with last-minute withdrawals of players from South Korea and Ireland bring the international representation in the
GEICO PBA World Series of Bowling VII
presented by Silver Legacy to a record-tying 21 countries. But the 2015 World Series will set a participation record if the current roster of 244 holds up.
WSOB VII, which begins with official practice sessions Monday at the National Bowling Stadium in Reno, Nev., is scheduled to include four more players than the previous sold-out fields of 240 during the past four years at South Point in Las Vegas. The international representation record of 21 countries was set in 2013, also in Las Vegas.
The 2015 field will be minus two defending champions: reigning PBA World Champion
Mike Fagan
(pictured left) has suspended his PBA Tour activity to return to school in pursuit of his Master's degree, and 2014 Viper champion
Mika Koivuniemi
(right) has semi-retired to deal with a chronic back ailment, and also has accepted a position to coach the national team in the United Arab Emirates.
Defending champions who will be in the field in Reno are
Anthony Pepe
(Cheetah),
DJ Archer
(Chameleon) and
Michael Haugen Jr.
(Scorpion).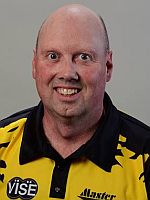 And due to a lingering foot ailment,
Mike Scroggins
(left) of Amarillo, Texas, has been forced to withdraw from the eight-player PBA50 Tour qualifying event to determine two finalists for the PBA Challenge Finals on Saturday, Dec. 19. Scroggins will be replaced in the PBA50 event by
Ron Mohr
(right) of Las Vegas.
PBA's Xtra Frame coverage of the World Series begins Monday and continues through the qualifying and match play rounds of the four animal pattern championships, Rolltech PBA World Championship and PBA Challenge Finals qualifying events.
 
Bonuses await early arrivals for Rolltech PBA World Championship finals
You could call it an "indoor tailgate party." Bonuses for the first 250 early arrivals for the live ESPN finals for the Rolltech
PBA World Championship
on Thursday, Dec. 17, at the National Bowling Stadium in Reno will receive a free hotdog, free beverage (soda or beer), a chance to visit 18 PBA Product Registered company vendor booths, and a chance to get the best available seats.
Remaining tickets available for the live ESPN telecast (air time is 4 p.m. local time) start at $10. Tickets are available on pba.com (https://www.eventbrite.com/e/live-rolltech-pba-world-championship-tickets-18822094391) or at the door.
Reno fans also are invited to participate for prizes in a "best dressed Santa" costume contest, which will offer $1,000 in cash prizes, and win free giveaways during the telecast. A DJ also will be part of the festivities.
Fans also are reminded they will still be able to place wagers on who they think will win the PBA World Championship at Silver Legacy Sports Book prior to the telecast.
 
New "Tom's Take" Facebook feature to debut at WSOB VII
A new PBA Facebook feature will debut during the GEICO PBA World Series of Bowling VII, presented by Silver Legacy.
The new feature, called
#TomsTake
, is hosted by PBA Commissioner and CEO Tom Clark and will provide fans with an inside look at the PBA like they have never seen before.
To view the first video clip in the new Facebook series, click
here
. To view the second clip on the Olympic Games and the PBA World Championship, click
here
.
 
Entries open for PBA Tournament of Champions, Players Championship
Entries for the FireLake
PBA Tournament of Champions
are now being accepted for all PBA title winners.
The TOC, set for Feb. 1-7 at FireLake Bowling Center in Shawnee, Okla., will include a field of 96 players of which 72 are reserved for PBA Tour title holders. An additional 24 PBA Regional, PBA50, PWBA-PBA Women's Regional and/or PBA Women's Series champions will qualify during a special TOC Regional event that will precede the TOC.
Eligible PBA Tour champions who want to participate must submit their entries by no later than Tuesday, Jan. 4. Any spots reserved for PBA Tour title holders that are not filled will be added to the 24 spots coming out of the TOC Regional.
The TOC Regional is open to all bowlers, PBA members or non-members. If the winner is a member who has not previously won a PBA title, he/she will become TOC-eligible. Entries for the regional will be handled by PBA Southwest Region Tournament Manager Pete McCordic (email:
[email protected]
).
TOC participants also are advised the Grand Casino Hotel & Resort in Shawnee has established a $99/night PBA rate for players and fans. To book rooms, visit www.grandresortok.com/hotel/ and enter the code 160128FIRE in the Group Code under "Advanced Options." Booking early is recommend because another event is scheduled in the area at the same time.
To enter the TOC, please contact Mary von Krueger at
[email protected]
or 206-332-9688. The entry fee is $500.
To enter the Barbasol
PBA Players Championship
, set for Feb. 15-21 at Wayne Webb's Columbus Bowl in Columbus, Ohio, use the online system at pba.com. The entry fee is $500. The tournament is limited to a field of 160 PBA members.
 
PBA Regional Update: Derek Williams wins in Beaumont
Former PBA member
Derek Williams
of Groves, Texas, won the PBA Beaumont Southwest Open at Crossroads Bowling Center in Beaumont, Texas, Sunday. It was the third time Williams has won a title in the center owned by his brother, PBA Hall of Famer Mark Williams.
Going into the final position round match, Williams led Joe Findling from Greenville, Texas, by 49 pins, and was only 86 pins ahead of third place. Williams defeated Findling, 225-180, to finish with a 21-game total of 4,954 pins, including match play bonus pins, to secure the $3,000 first prize. Defending champion Anthony Simonsen from Princeton, Texas, defeated Chris Hibbitts of Keller, Texas, 247-244, to move up to second, 61 pins behind Williams.
The GEICO PBA World Series of Bowling VII presented by Silver Legacy, set for Dec. 7-19 in Reno, will dominate the December calendar.
Other activity over the Dec. 4-6 weekend includes the
McKinley Lanes Central Challenge
in Niles, Ohio, and the
Knob Hill/MJK Pro Shop Eastern Challenge
at Knob Hill Country Lanes in Manalapan, N.J. Both are reduced entry fee events for non-champions.
The Dec. 12-13 PBA Regional calendar includes the
Sands Regency Tri-Region Open
presented by Radical and the
PBA50 Sands Regency Tri-Region Open
presented by Roto Grip at the National Bowling Stadium in Reno during a break in the GEICO PBA WSOB VII action.
Closing out 2015 over the Dec. 18-20 weekend will be the
PBA/PBA50 Houston Southwest Doubles Open
presented by Bowling Dynamix at Emerald Bowl in Houston, Texas, and the
PBA Japan Region's DHC Women's Scorpion Open and Scorpion Open
at Higashiyamato Grandbowl in Tokyo.
For complete PBA Regional schedules, rules and entry information, click
here
and open the "schedules" tab and click on Regional Tours to find the event(s) in your area.
 
Related Articles
2015 PBA Spare Shots #47
- November 26, 2015
2015 PBA Spare Shots #46
- November 18, 2015
2015 PBA Spare Shots #45
- November 14, 2015
2015 PBA Spare Shots #44
- November 5, 2015
2015 PBA Spare Shots #43
- October 30, 2015
2015 PBA Spare Shots #42
- October 23, 2015
2015 PBA Spare Shots #41
- October 16, 2015
2015 PBA Spare Shots #40
- October 8, 2015
2015 PBA Spare Shots #39
- October 1, 2015
2015 PBA Spare Shots #38
- September 23, 2015
2015 PBA Spare Shots #37
- September 17, 2015
2015 PBA Spare Shots #36
- September 11, 2015
2015 PBA Spare Shots #35
- September 4, 2015
2015 PBA Spare Shots #34
- August 27, 2015
2015 PBA Spare Shots #33
- August 20, 2015
2015 PBA Spare Shots #32
- August 13, 2015
2015 PBA Spare Shots #31
- August 6, 2015
2015 PBA Spare Shots #30
- July 29, 2015
2015 PBA Spare Shots #29
- July 23, 2015
2015 PBA Spare Shots #28
- July 16, 2015
2015 PBA Spare Shots #27
- July 9, 2015
2015 PBA Spare Shots #26
- July 2, 2015
2015 PBA Spare Shots #25
- June 24, 2015
2015 PBA Spare Shots #24
- June 18, 2015
2015 PBA Spare Shots #23
- June 12, 2015
2015 PBA Spare Shots #22
- June 6, 2015
2015 PBA Spare Shots #21
- May 28, 2015
2015 PBA Spare Shots #20
- May 20, 2015
2015 PBA Spare Shots #19
- May 7, 2015
2015 PBA Spare Shots #18
- April 29, 2015
2015 PBA Spare Shots #17
- April 23, 2015
2015 PBA Spare Shots #16
- April 17, 2015
2015 PBA Spare Shots #15
- April 9, 2015
2015 PBA Spare Shots #14
- April 3, 2015
2015 PBA Spare Shots #13
- March 26, 2015
2015 PBA Spare Shots #12
- March 18, 2015
2015 PBA Spare Shots #11
- March 11, 2015
2015 PBA Spare Shots #10
- March 5, 2015
2015 PBA Spare Shots #09
- February 25, 2015
2015 PBA Spare Shots #08
- February 19, 2015
2015 PBA Spare Shots #07
- February 12, 2015
2015 PBA Spare Shots #06
- February 5, 2015
2015 PBA Spare Shots #05
- January 31, 2015
2015 PBA Spare Shots #04
- January 24, 2015
2015 PBA Spare Shots #03
- January 15, 2015
2015 PBA Spare Shots #02
- January 8, 2015
2015 PBA Spare Shots #01
- January 3, 2015
2014 PBA Spare Shots