Page, Schaub, Asbaty, Milligan to represent the U.S. in the 2007 Pan American Games
02/18/07
United States
Rhino Page, Cassidy Schaub, Diandra Asbaty and Tennelle Milligan
won the men's and women's 2007 Pan Am Team Trials held in Milwaukee, Wis., Feb. 16-17, 2007. The trials featured four separate tournaments on four different lane oil patterns, the first three five-game blocks at Olympic Lanes and the final six-game series at the USBC testing facility.
L-R Asbaty, Page, Schaub and Milligan.
Asbaty won the first two tournaments on the 44-feet and the 39-feet pattern and Milligan finished second both times en route to overtake previous leaders Lynda Barnes and Shannon Pluhowsky. Barnes won the third round on the 34-feet pattern to remain in the race for the two spots, while Pluhowsky as well as Marcia Kloempken and Brenda Viator were already out of contention before the final block started at the USBC testing facility on Saturday morning.
It was nip and tuck through the whole series and Team USA head coach Jeri Edwards had to verify the results several times before the final standings were announced. Despite finishing fifth on the 42-feet pattern with 1117, Asbaty (l.) won the Trials with 1057.5 point total. Milligan (r.), who was sixth and last in the fourth round with 1098 landed in second place with 992.5 points.
U.S. champion Lynda Barnes, who had to finish three spots higher than Milligan on the final day, to secure a spot in the team for Rio de Janeiro, felled 1210 pins. When Brenda Viator (1276) and Shannon Pluhowsky 1352 topped her score, that sealed Barnes' fate and she had to settle for third place with 952.5.
Pluhowsky finished fourth at 897.5, with Marcia Kloempken fifth 770.0 and Viator sixth 675.0.
Page (l.), who led the men's field after the 2006 Majors and the Team USA Trials, won two tournaments and finished third and fifth in the others to cruised to victory with 1152.5 point total. The lefthander, who won five medals at the 2006 Men's World Championships including the Team gold, averaged 224.48 over 21 games.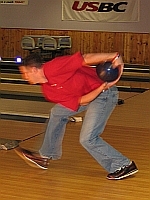 Cassidy Schaub (r.), Mark Siders and U.S. champion David O'Sullivan battled it out for the second place.
Schaub (pictured right), who uses both hands to deliver the ball, might become a third force after Jason Belmonte and Osku Palermaa, who have established the two-handed style on top level. Other than the Aussie and the Finn, however, Schaub is a lefty. He ended in second place and qualified for the Pan Am Games with 850 points.
Mark Siders was mere ten points behind in third place at 840.0 with O'Sullivan in fourth at 765.0. John Janawicz was fifth at 765.0 and David Haynes sixth 680.0, Derek Eoff shot the 1407 high series on Saturday to end in seventh place with 657.5.
Places 8 and 9 belonged to former U.S. Amateur champion
Bill Hoffman
(pictured) and Dan Patterson with 552.5 and 535.0, respectively.
Editor's note: Hoffman, who shot a perfect game in the 2006 World Championships Team event, has asked Bowlingdigital for help to find some people, who have taped his perfecto in Busan, Korea. In case you can help Bill, please use the link on the horizontal menu bar to contact us.
Selection criteria for the U.S. Pan American Games team
Total ranking points from 2006 major competition at the U.S. Open, USBC Open Championships, USBC Women's Championships, USBC Queens and USBC Masters (15 percent of weight).
Actual pinfall finish at the 2007 USBC Team USA Trials, which were held Jan. 8-11 at the National Bowling Stadium in Reno, Nev. (40 percent of weight).
Total ranking points from 2007 U.S. Pan American Team Trials, consisting of actual pinfall total in four separate tournaments on four different patterns. This will account for the remaining 45 percent of qualification. (Example, if Bowler A wins all four tournaments, she will receive 12 points per pattern for a total of 48 points. She will receive the No. 1 ranking spot of 12 points, which will be multiplied by 45 to earn 540 points for the event.)
Pattern 1 - 44 feet long with 21.88ml oil
Pattern 2 - 39 feet long with 27.16ml oil
Pattern 3 - 34 feet long with 18.84ml oil
Pattern 4 - 42 feet long with 19.44ml oil
The Pan American Games are an Americas version of the Olympic Games but also include those not designated as Olympic Program sports, such as bowling. Conducted every four years, the first Pan American Games were held in 1951 in Buenos Aires, Argentina.
An estimated 5,500 athletes from 42 countries will compete in 28 sports at the XV Pan American Games in Rio de Janeiro. The bowling competition is scheduled for July 23-26 at Barra Bowling Center, a 20-lane facility located in the Barra Shopping Mall.
Men's Final Standings

| | | | | | | | | | | |
| --- | --- | --- | --- | --- | --- | --- | --- | --- | --- | --- |
| Pos | Players | B/F | Pattern 1 | Pattern 2 | Pattern 3 | Pattern 4 | Total | Ave. | Rank 1-4 | Total |
| | | | Rank 1 | Rank 2 | Rank 3 | Rank 4 | Points | | * 45 | |
| 1. | Rhino Page | 612.5 | 1140 | 1159 | 1134 | 1281 | 4714 | 224.48 | 12 | 1152.5 |
| | | | 8 | 12 | 12 | 10 | 42 | | 540 | |
| 2. | Cassidy Schaub | 535.0 | 1136 | 1068 | 1056 | 1176 | 4436 | 211.24 | 7 | 850.0 |
| | | | 7 | 8 | 7 | 6 | 28 | | 315 | |
| 3. | Mark Siders | 390.0 | 1261 | 1111 | 1107 | 1148 | 4627 | 220.33 | 10 | 840.0 |
| | | | 12 | 11 | 11 | 5 | 39 | | 450 | |
| 4. | David O'Sullivan | 562.5 | 1215 | 1066 | 1020 | 1134 | 4435 | 211.19 | 4,5 | 765.0 |
| | | | 10 | 7 | 4 | 4 | 25 | | 202,5 | |
| 5. | John Janawicz | 325.0 | 1222 | 1085 | 1053 | 1217 | 4577 | 217.95 | 9 | 730.0 |
| | | | 11 | 9 | 6 | 7 | 33 | | 405 | |
| 6. | David Haynes | 320.0 | 1101 | 1022 | 1103 | 1293 | 4519 | 215.19 | 8 | 680.0 |
| | | | 5 | 4 | 10 | 11 | 30 | | 360 | |
| 7. | Derek Eoff | 162.5 | 1143 | 1089 | 1095 | 1407 | 4734 | 225.43 | 11 | 657.5 |
| | | | 9 | 10 | 9 | 12 | 40 | | 495 | |
| 8. | Bill Hoffman | 350.0 | 1111 | 1051 | 1033 | 1222 | 4417 | 210.33 | 4,5 | 552.5 |
| | | | 6 | 6 | 5 | 8 | 25 | | 202,5 | |
| 9. | Dan Patterson | 265.0 | 982 | 1040 | 1059 | 1278 | 4359 | 207.57 | 6 | 535.0 |
| | | | 4 | 5 | 8 | 9 | 26 | | 270 | |
Women's Final Standings
| | | | | | | | | | | |
| --- | --- | --- | --- | --- | --- | --- | --- | --- | --- | --- |
| Pos | Players | B/F | Pattern 1 | Pattern 2 | Pattern 3 | Pattern 4 | Total | Ave. | Rank 1-4 | Total |
| | | | Rank 1 | Rank 2 | Rank 3 | Rank 4 | Points | | * 45 | |
| 1. | Diandra Asbaty | 540.0 | 1207 | 1204 | 1036 | 1117 | 4564 | 217.33 | 11,5 | 1057.5 |
| | | | 12 | 12 | 8 | 8 | 40 | | 517,5 | |
| 2. | Tennelle Milligan | 565.0 | 1192 | 1072 | 1100 | 1098 | 4462 | 212.48 | 9,5 | 992.5 |
| | | | 11 | 11 | 9 | 7 | 38 | | 427,5 | |
| 3. | Lynda Barnes | 592.5 | 1092 | 1039 | 1180 | 1210 | 4521 | 215.29 | 8 | 952.5 |
| | | | 7 | 8 | 12 | 10 | 37 | | 360 | |
| 4. | Shannon Pluhowsky | 582.5 | 1155 | 1019 | 1025 | 1352 | 4551 | 216.71 | 7 | 897.5 |
| | | | 9 | 7 | 7 | 12 | 35 | | 315 | |
| 5. | Marcia Kloempken | 342.5 | 1172 | 1065 | 1122 | 1177 | 4536 | 216.00 | 9,5 | 770.0 |
| | | | 10 | 9 | 10 | 9 | 38 | | 427,5 | |
| 6. | Brenda Viator | 157.5 | 1147 | 1070 | 1153 | 1276 | 4646 | 221.24 | 11,5 | 675.0 |
| | | | 8 | 10 | 11 | 11 | 40 | | 517,5 | |